Florida's climate makes year-round outdoor activity one of the Sunshine State's bright spots. Officials in Sarasota County, Florida, knew an extension of their historic Legacy Trail would be a welcome addition to residents and visitors. Because safety and environmental stewardships were a priority, the County and consultant Kimley Horn enlisted VHB to provide an integrated services approach to the heavily travelled recreation trail that opened this fall.
Legacy Trail follows a former railroad corridor that once carried WWII servicemen, passengers, and circus cars to their winter homes in the Sunshine State. The new extension encompasses an eight-mile area from Culverhouse Nature Center at the northern terminus of the existing Legacy Trail to the City of Sarasota at Payne Park.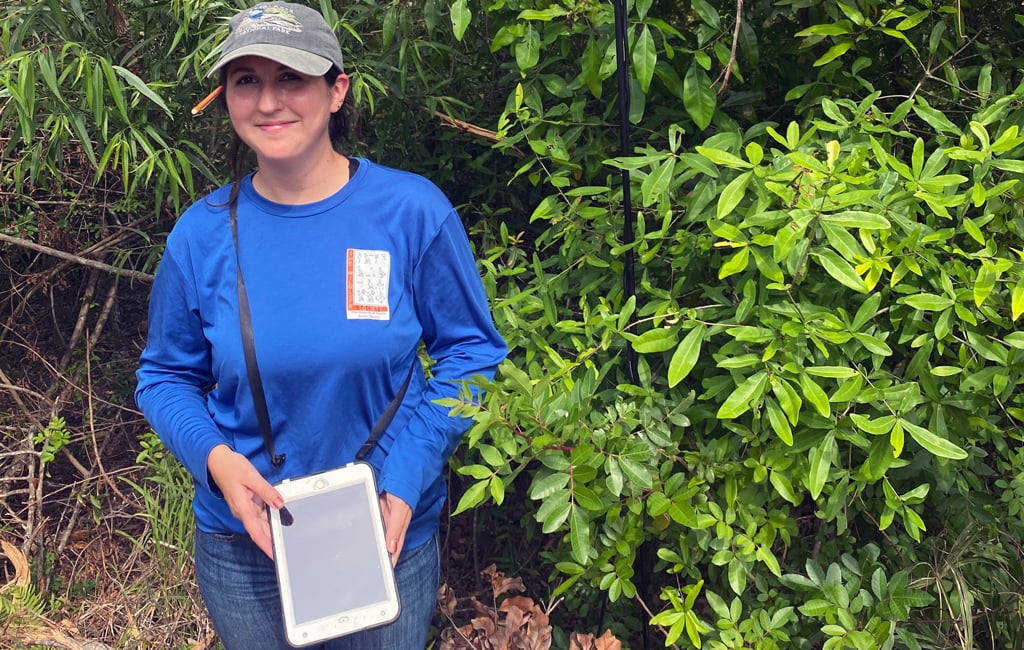 VHB's involvement included structural engineering services, environmental assessments for protected species and wetlands, and trail crossing signalization, signing, and pavement markings that prioritize safety for trail users and vehicles on the Legacy Trail Extension (LTE) and North Port Connector (NPC) routes. The NPC route is approximately four miles exclusively through conservation land, and the full trail accesses historic Venice Train Depot, downtown Sarasota, beach parks, and busy suburban thoroughfares.
Trail Respects Habitats for Bats & Gopher Tortoises
Prior to trail construction, VHB environmental scientists conducted environmental assessments, permitting for wetlands, and surveys for protected species. VHB insight helped move the project forward and secure permits from the Southwest Florida Water Management District and U.S. Army Corps of Engineers. A corridor alternatives analysis of two potential alignments through conservation lands for the NPC route identified the least impactive and most cost-effective alternative.
In addition to documenting eagle nests and mapping eight gopher tortoise burrows for relocation, VHB conducted acoustic surveys for Florida's bonneted bat to determine if the protected species was located in the Trail extension area.
In the U.S., six bat species have federal protection, and states also have their own laws. Florida bonnetted bat, which is classified as endangered by the U.S. Fish and Wildlife Service and the Florida Fish and Wildlife Conservation Commission, is generally located in the southern part of the state. VHB conducted an acoustic bat survey in the project field utilizing acoustic monitoring equipment that records bat echolocation calls. Each bat has its own unique acoustic signature that we can use to determine what bats might be utilizing the surrounding habitat. Our equipment recorded the echolocation calls of six bats, including the tri-colored bat, evening bat, eastern red bat, northern yellow bat, Mexican free-tailed bat, and southeastern bat but no Florida bonnetted bats.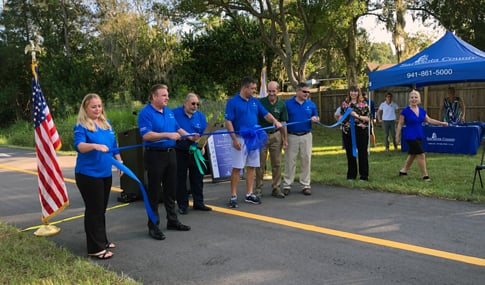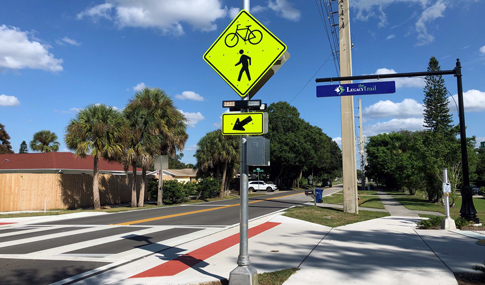 Emerging Crosswalk Signals Elevate Safety
Legacy Trail crosses multiple arterials and busy roadways and pedestrian safety was a priority for planners. VHB traffic engineers designed trail crossing treatments via signal warrant analysis at 13 existing roadway crossings, ranging from major six-lane arterial state roadways to local two-lane roadways.
"The Legacy Trail extension includes the installation of several user-actuated crosswalk treatments called Pedestrian Hybrid Beacons (PHB). The PHB were used primarily at multi-lane trail crossings where the primary user on the side street is a cyclist or pedestrian," said Jennifer DiStefano, PE, Project Engineer.
"The PHB signal head looks different than a standard vertical signal head; it has two single-section signal heads in the top row and one single-section head centered below. It first flashes yellow to encourage drivers to slow, then displays steady yellow to indicate an upcoming red, then steady red requiring drivers to fully stop while the user receives the WALK symbol. It's one of a variety of crossing countermeasures we implemented that make best-use of new technologies at different trail crossings."
Key factors in the determination of the crossing treatment included the volume of vehicular traffic on the main roadway and the posted speed at the trail crossing. Emerging best practices for selecting crossing countermeasures were considered including full color signals, Rectangular Rapid Flashing Beacons (RRFB), and PHBs (also known as a High Intensity Activated Crosswalk - HAWK). Signalization plans were prepared for each crossing location detailing mast arm and strain pole layout, placement of PHB and standard signal heads, placement of RRFB assemblies, and layout of all related pull boxes and conduit. VHB also detailed all required signage and pavement markings and provided structural design and analysis for the mast arms and strain poles.
VHB was also assigned several structural elements of the trail along the NPC route, including multiple culverts in Deer Prairie Creek Preserve for an elevated trail connection over existing waterways and a pedestrian bridge over the R-36 canal, which will provide the connection between the City of North Port and West Price Avenue.
Contact Jennifer to learn how to elevate pedestrian safety in your community.