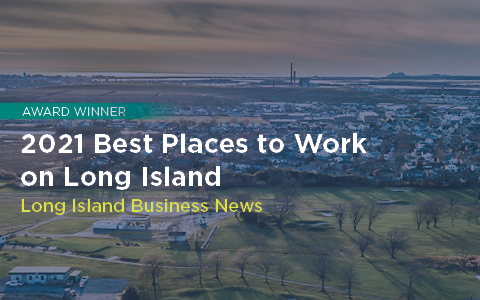 VHB's Hauppauge office has been named one of the Best Places to Work on Long Island by Long Island Business News (LIBN), a leading publication in Long Island devoted to local commerce and the premier source of news and data on business and economic trends. The award honors the top companies on Long Island and is determined through employer reports and a comprehensive employee survey. The VHB Hauppauge office's commitment to successfully support a thriving hybrid work environment and strong community spirit was a significant element in achieving this recognition.
VHB Hauppauge was selected based on the level of community initiatives and involvement through charitable programs like VHB Cares and volunteerism through organizations like Long Island Cares. Employee benefits, including VHB's extensive health and wellness benefits, and improvements implemented in the past year to make VHB a better place to work, including programs like Reset for Resiliency and VHB Connected were also contributing factors.
"Since the onset of the pandemic, VHB has worked quickly and carefully to develop and implement plans and policies that prioritize the health, wellness, and safety of our employees and their families, clients, partners, and communities," explains Kevin Walsh, Managing Director, VHB Hauppauge. "While our workplace dynamic is evolving, we're focused on strengthening our dynamic, inclusive culture. Thank you, LIBN, for recognizing our team!"
The LIBN Best Places to Work on Long Island honorees will be celebrated at an awards ceremony on Tuesday, December 7th.
For more information, contact Kevin Walsh.