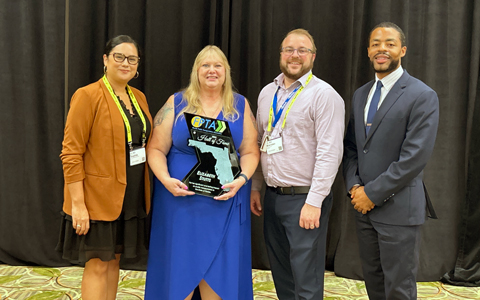 The Florida Public Transportation Association (FPTA) recently inducted Elizabeth (Liz) Stutts, Transit Development Lead, into the 2023 Hall of Fame during a ceremony that recognized her significant and lasting impact advancing public transportation in Florida. This is the highest honor that FPTA bestows—only 22 individuals and three women have been recognized over the organization's 40+ year history.
Liz's accomplishments span both public and private organizations. Over her 30+ year career, she has spearheaded numerous innovative projects throughout the Southeast, navigated funding opportunities for multiple federal, state, and local government agencies, and skillfully leveraged relationships with stakeholders for project success. Liz's dedication extends across the entire state, where she has advanced transportation opportunities, advocated for sustainable infrastructure solutions, and mentored countless professionals in the field. She has displayed an unshakable commitment to improving transportation networks, reducing environmental impacts, and upholding public transportation as an essential lifeline for communities across Florida.
"Liz is so deserving of this honor. In the public transportation industry, dedication, passion, and unwavering commitment to improving the lives of transit commuters often go unnoticed," said Matt Lamb, Southeast Regional Manager. "She brings an immense amount of insight to clients about how federal legislation, economic, and social issues are impacting transit projects across the state."
Prior to joining VHB, Liz served as State Transit Manager at Florida Department of Transportation (FDOT) and led the statewide development of policies to implement significant transit programs by the Department's District Offices. At VHB, she is helping the University of Florida improve transit services on campus; enhancing the FDOT reThink Your Commute program with employer mobility initiatives that promote alternatives to driving; and supporting the FDOT District 5 Modal Development Office with transit, intermodal, and project oversight that strengthens transportation infrastructure for future generations.
"Liz brings so much passion and institutional knowledge to our team. We are grateful for her continued mentorship. It's a privilege to call her a friend and fellow VHBer," said Sophia Villavicencio-Ortiz, AICP, Public Transportation Project Manager.
"Receiving the FPTA Lifetime Achievement Award is a memorable occasion—a testament to Liz's outstanding leadership and dedication. It acknowledges her relentless pursuit of excellence and tenacious spirit that has driven her to achieve remarkable milestones in the realm of public transportation," said Lisa Bacot, Executive Director of the FPTA.
Join us in congratulation Liz for this well-deserved honor and for her ongoing commitment to enhancing the lives of individuals through accessible, sustainable, and efficient public transportation.