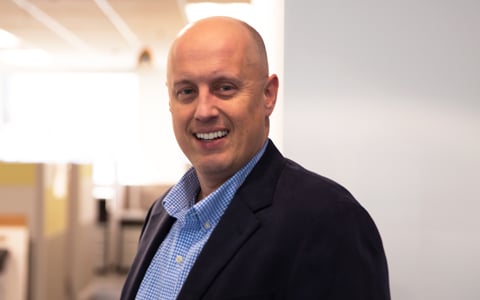 As technology continues to drive innovation and smart campus initiatives for educational and healthcare organizations nationwide, VHB is committed to delivering technology-enabled solutions and further enhancing our capabilities. To strengthen this commitment, Mike Parkin has joined VHB as Institutions Technology Leader. In his role, Mike will drive technology innovation and support our clients as they strive to future-proof their campuses.
Based in VHB's Watertown office, Mike is a highly skilled leader with more than 20 years of experience integrating technology into campus environments. During his tenure as Director for Operational Technology Platforms at Harvard University Information Technology, and Director at Applied Technology, Research, and Innovation at MIT Department of Facilities, he provided integrated technology solutions to aid in decision-making processes and resolve complex campus challenges. Mike brings tremendous credibility and value potential to our clients with his knowledge, industry reputation, and understanding of campus operations.
"Mike has first-hand knowledge of how institutions are utilizing advanced technology and the ways it can enhance the campus experience," said Rob Smedberg, VHB Institutions Market Leader. "He also understands complexities of those environments and I know he will bring tremendous value to our clients as they address the future needs of their campuses."
Mike holds a Bachelor of Arts degree in Environmental Science from The University of Maine at Farmington.