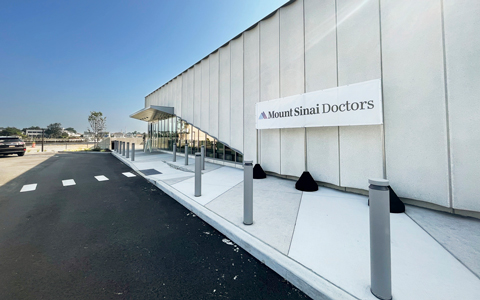 Mount Sinai South Nassau Hospital has achieved a significant milestone in its mission to deliver exceptional medical services to barrier island residents. The hospital recently celebrated the grand opening of its remarkable $35 million facility on its Long Beach, New York, campus. The state-of-the-art pavilion not only offers patients high-quality care in a modern and comfortable environment but also showcases impressive resilience against storm surges and floods.
After Superstorm Sandy destroyed its original Long Beach facility, the hospital utilized Federal Emergency Management Agency (FEMA) and state funding to invest more than $73 million in its healthcare revitalization plan for Long Beach, which includes the Long Beach Emergency Department—the only free-standing, 911-receiving emergency department in Long Island—and Mount Sinai South Nassau-Long Beach Primary Care.
To support Mount Sinai with this ambitious project, VHB provided a wide range of services, including civil engineering, traffic, and environmental studies in accordance with the State Environmental Quality Review Act (SEQRA) process. Additionally, VHB lent its experience in regulatory support, landscape architectures, and site investigation and remediation to address groundwater contamination. Enhancing sustainability, VHB also provided green infrastructure design, incorporating bioretention basins to capture and recharge water back into the aquifer beneath the site.
With the destruction from Superstorm Sandy in mind, VHB implemented several resiliency measures to fortify the facility against future natural disasters. One of the primary challenges was the need to build the facility above the floodplain. While delivering the building design, VHB made certain the first floor was elevated at least six feet above the surrounding streets. Leveraging innovative design measures, VHB also devised a system to reroute floodwater from the site in the event of a storm surge.
VHB Project Manager Angelo Laino, PE, spoke about the successes of the project. "Mount Sinai wanted to create a facility that would meet the needs of the community and provide the best possible care for patients—all while being able to withstand future storms and flood events," he said. "Since the aftermath of Superstorm Sandy, local residents have had to travel elsewhere to receive medical attention. This new facility marks the end of that era. Mount Sinai South Nassau now provides much-needed, easily accessible medical care for the surrounding community."
The new cutting-edge facility boasts an impressive array of services, including primary care, cardiology, gastroenterology, orthopedics, and urology. In addition, patients can benefit from a state-of-the-art imaging center, laboratory, and pharmacy. The pavilion further includes 15 private patient examination rooms, each meticulously furnished to maximize patient comfort, as well as four procedure rooms, an X-ray room, and eight dedicated procedure preparation and recovery rooms. Patients can easily access their health records, schedule appointments, renew medications, and obtain information from any Mount Sinai Doctors practice, courtesy of an electronic health record system.
Learn more about VHB's healthcare services and solutions or contact Angelo Laino today.