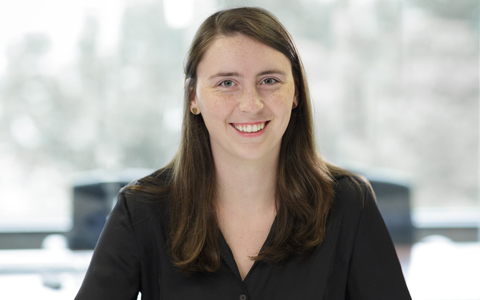 Noelle Rauer, PE, was selected as the 2023 Young Member of the Year by the Institute of Transportation Engineers (ITE). This international recognition is awarded to one of 20 individuals from across the world selected for the ITE Young Leaders to Follow program. The program aims to acknowledge and showcase exceptional ITE members under the age of 35 who have made significant contributions to ITE and the transportation industry. Noelle was recognized at the ITE Annual Meeting and Exhibition in Portland, OR, this month.
Since becoming a member of ITE, Noelle has championed supporting and engaging younger members. With eight years of membership, she has held significant leadership positions at the student, section, district, and international levels. She currently serves as the ITE Younger Member Committee Co-chair, Southern District ITE (SDITE) Young Committee Co-chair, and Virginia Section of ITE (VASITE) Director on the Executive Board where she has been instrumental in creating professional development and networking avenues for young members. She has also played a role in the Student to Young Member Transition Task Force, which assists students in transitioning to young professionals.
"Noelle is a valuable member of our team and a role model for the next generation of transportation leaders," said Chris Daily, PE, Transportation Manager in Richmond. "Even at this early stage of her career, Noelle has made a profound impact on our industry, ITE, and VHB. I look forward to witnessing the extraordinary ways in which she will continue to shape the future of transportation."
Noelle has received several other prestigious accolades, including being recognized as the Southern District's Rising Star and 2022 Joseph M. Thomas Outstanding Young Member and VASITE's 2021 Young Member. As a Transportation Analyst at VHB, Noelle specializes in traffic impact studies, roadway safety assessments, traffic signal design, and traffic operations analysis.
Connect with Noelle.