Engineering News-Record (ENR), an engineering and construction publication, recently featured an article on the Ohio Creek Watershed project in Norfolk, VA—a coastal community frequently facing flooding due to sea level rise and major rainfall events. The article highlights the sustainable solutions that are actively under construction for the Chesterfield Heights and Grandy Village neighborhoods. When complete, these improvements will enhance quality of life for residents through community connection, accessibility, public spaces, and neighborhood amenities.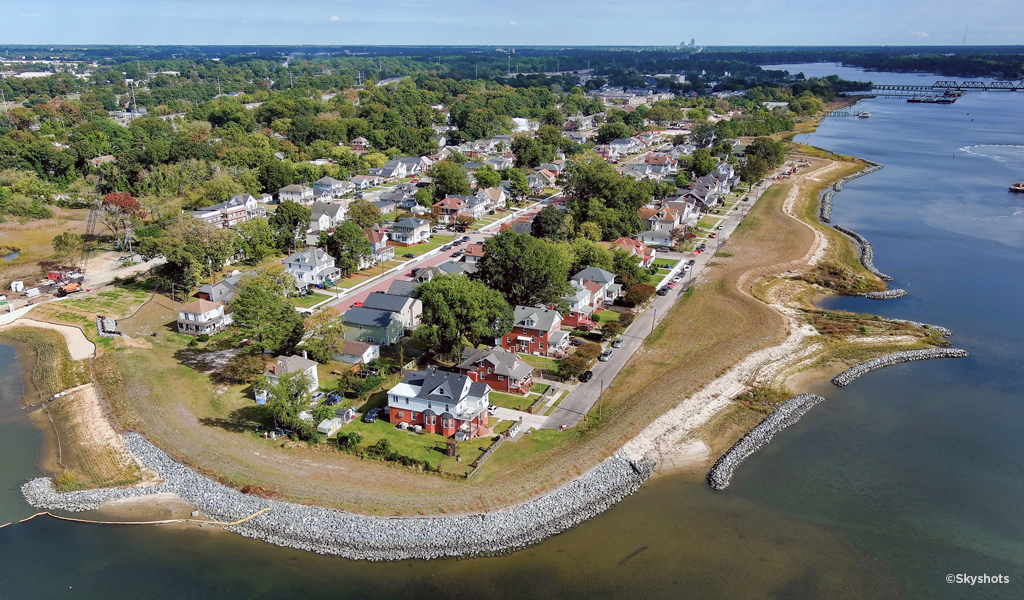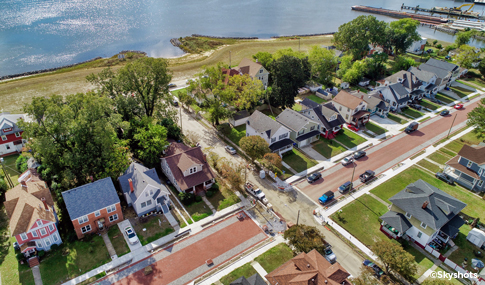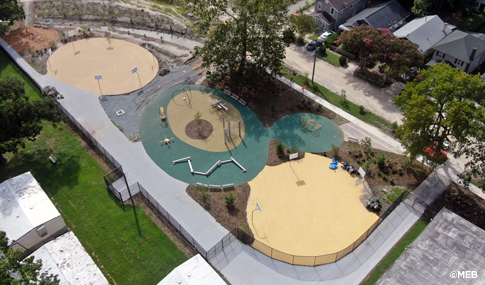 VHB's role included environmental compliance and design of the shoreline stabilization. This involved a layered approach to resiliency that incorporated a berm, living shoreline, and oyster reefs as part of the coastal defense strategy. The following excerpt from ENR's article, authored by Bruce Buckley, details the resiliency tactics integrated into the existing landscape: The final design concept called for a mix of hard infrastructure and natural solutions. Near the shoreline, crews would construct more than 1,000 linear ft of floodwall, along with more than 2,000 linear ft of living shoreline. Based on National Oceanic and Atmospheric Administration sea-level rise projections, an earth berm was built to an elevation of 12 ft. It extends from the floodwall, across the shoreline and into the neighborhood. The combination of floodwall and berm create a continuous coastal defense system for the entire community.
VHB's Kimberly Blossom shared strategies the design team used to ease resident's concern of losing their waterfront views with the construction of the 12-foot berm. ENR quoted Kimberly as saying, "The design team brought in hay bales and stacked them so they could demonstrate the height to the community. What we found is that the porches on most homes are at about 5 feet [above street level], so most could still see well over the berm. It helped them understand things better and calmed some nerves."
Additional improvements taking shape to enhance the community include two new pump stations; a tide gate to move water in and out as needed during a storm event; a stormwater park that will serve as a retention area following a flood event; and infrastructure upgrades, such as raised roadways, permeable pavers, and larger drainpipes. The combination of these strategies will strengthen water management, make roadways operational during heavy rainfall events, protect property, and prevent flooding from disrupting resident's daily lives. With construction anticipated for completion in 2023, the project serves as a successful model of resiliency that can be used as a catalyst for future coastal projects in Norfolk and beyond.
Read the full article "Va. Infrastructure Project Deploys Multiple Sustainable Solutions" on ENR Mid-Atlantic's website.