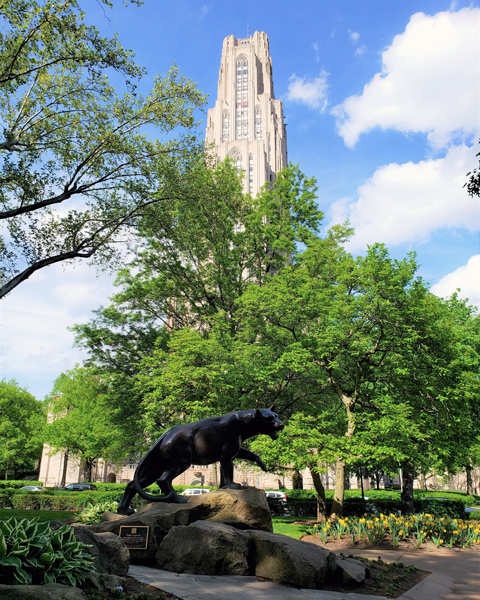 VHB is on one of the five teams selected as a finalist for the Pitt Sustainability Challenge, a competition sponsored by the University of Pittsburgh focused on helping communities achieve carbon neutrality by 2037. VHB is a key member of the S&B USA team, which submitted "Panther Tracks: A Path to a Zero Emission Transportation." The challenge is open to the public and will award $300,000 to "an integrated, impactful, durable, and feasible solution to advance carbon neutrality with lasting benefits for the Pitt community."
With a focus on regional transportation decarbonization, the S&B USA team's innovative solution includes a campus-wide electric vehicle (EV) plan to support single occupancy and shared use vehicles, shuttles, and micromobility devices. The idea aligns with the University's Climate Action Plan by championing sustainable transportation and cutting-edge technology to lead the change towards a greener future. Their submission also incorporates a pilot project to inspire the University community and serve as a living example for stakeholder engagement.
Nat Grier, Senior Transportation Leader, is supporting the S&B USA team in this competition.
"I've spent more than 20 years analyzing how people move to, from, and across university campuses nationwide, including Pitt," said Nat. "This project provides a meaningful opportunity to decrease the University's greenhouse gas (GHG) emissions while providing a range of benefits for the entire Oakland campus. Nearly half of Pitt commuters ride the bus so this project will help improve options for commuters and reduce GHG for the remaining half of riders who don't utilize the bus system."
In September, the S&B USA team will pitch their creative solution to the Pitt Sustainability Challenge Selection Committee, funders, donors, and the public.
To learn more about VHB's innovative and sustainable campus mobility solutions, contact Nat Grier.