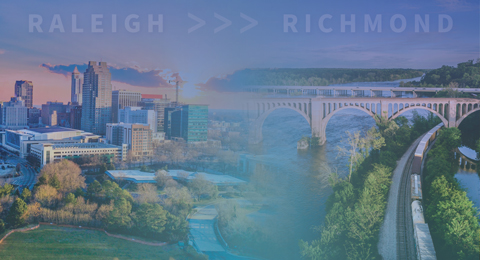 The North Carolina Department of Transportation (NCDOT) and the Virginia Passenger Rail Authority (VPRA) are working together to expand passenger rail service between Raleigh, NC, and Richmond, VA. The Raleigh to Richmond (R2R) project is getting ready to enter the preliminary engineering phase and continue the effort to bring daily passenger trains back to a once thriving corridor, providing additional connectivity within the region. VHB is performing design oversight for the Virginia portion of the project and will be responsible for oversight of the R2R S-Line rail and roadway designs through the preliminary engineering phase.
The approximately 162-mile rail corridor between Raleigh and Richmond currently includes tracks that are partially intact since service was discontinued in the 1980s. When complete, this new alternative to car and air travel will connect communities, offer an affordable and accessible transportation option to rural communities, and contribute to reducing greenhouse gas emissions. The R2R line also enhances connectivity on a regional scale, providing a faster connection between Charlotte, NC, Washington, DC, and the Northeast Corridor.
"At VHB, rider advocacy is at the forefront of how we approach rail and transit projects," said Meghan Powell, VHB's Mid-Atlantic Director of Transit & Rail. "Our team and partners are unified by the vision NCDOT and VPRA set forth from the very beginning to enhance capacity and reliability for rail in the region. It's exciting to continue making progress toward this impactful vision and it wouldn't be possible without the commitment and support from surrounding communities."
The Tier II Final Environmental Impact Statement (EIS) under the National Environmental Policy Act (NEPA) was completed in 2015, with the Record of Decision signed in 2017. This high-speed rail project received a $58.9 million federal grant to conduct survey and complete preliminary engineering for the 110-mph passenger rail corridor. The grant fell under the Biden administration's $368 million Consolidated Rail Infrastructure and Safety Improvements (CSRI) grant program—aimed to strengthen America's infrastructure and boost supply chains throughout the country.
Visit our Railroads page on vhb.com to learn more about our experience across the East Coast. Have questions, or need additional information about the R2R project? Contact Meghan.