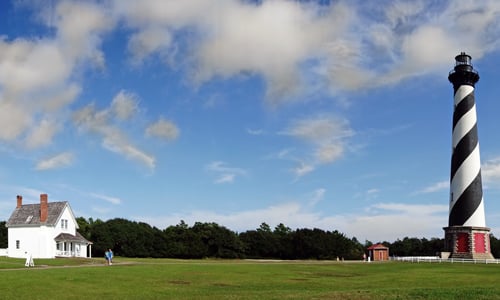 VHB is helping the National Park Service (NPS) improve the visitor experience at Cape Hatteras Light Station, an important step in the rehabilitation and restoration of this historic destination. A contractor has been selected to begin construction for the project that will protect this popular Outer Banks, North Carolina, lighthouse and surrounding landscape, making it functional for visitors for years to come. VHB and Quinn Evans Architects have partnered to provide a future-ready vision for the lighthouse site, addressing community and environmental needs.
To help the lighthouse remain functional and attract visitors for years to come, the NPS explored three preliminary alternatives through the National Environmental Policy Act (NEPA) process before landing on a full rehabilitation and restoration. The existing site has seen extensive degradation of the landscape due to the lack of connectivity for visitors exploring the grounds. To address this issue, VHB landscape architects proposed a new pedestrian loop that incorporates more connection points for visitors to reach each of the attractions.
Within these new pathways, the contoured landscape will be filled with native vegetation to encourage visitors to stay on the paths and promote resiliency of the grounds. The design also includes relocation of the historic Light Keeper's Stones, former granite bases of the Lighthouse from the original site. The stones will be arranged into a memorial to honor former Lighthouse Keepers and provide informal shaded seating with protection under the existing maritime forest canopy.
"The restoration of the lighthouse and its grounds presents an excellent chance to educate future generations of visitors. By improving the flow of pedestrians and increasing resiliency of the grounds and Lighthouse, this landmark will be able to withstand heavy visitation and frequent storms for another century," said Stephen Talley, Landscape Architect and Project Manager at VHB.
Since 1870, the Cape Hatteras Lighthouse has navigated thousands of sailors and protected one of the most hazardous sections of the Atlantic Coast along the Outer Banks in North Carolina. To this day, the Cape Hatteras Lighthouse is the tallest brick lighthouse in the United States.
Throughout its history, the Cape Hatteras Lighthouse has endured weathering to the external structure, a move of 2,900 feet from its original location to avoid shoreline erosion, and various additions of non-historic features to the site. In addition to the landscape improvements, the NPS and Quinn Evans are preparing to rehab and restore the historic landmark with its original character-defining features, repair deteriorated materials and finishes, and selectively reversing modern treatments added after the period of significance. Stone & Lime Historic Restoration Services was selected to repair the lighthouse and construct the light station visitor use improvements.
Have questions, or need additional information about the Cape Hatteras Lighthouse project? Contact Stephen.