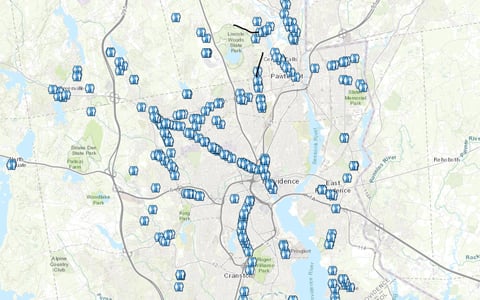 With pedestrian fatalities and serious injuries rising throughout the U.S., the Rhode Island Department of Transportation (RIDOT) partnered with VHB to be proactive with the development of a Statewide Pedestrian Safety Action Plan. The result was a Federal Highway Administration (FHWA)'s Administrator Excellence in Teamwork Award for its success given to the RIDOT Office of Safety. The FHWA has also highlighted this project as a major success in implementing its Safe Transportation for Every Pedestrian (STEP) program.
The project began in the field, with the VHB project team traveling across Rhode Island to inventory over 700 mid-block crosswalks on state-owned roadways. Working with VHB's in-house Applied Technology team, VHB took an innovative approach to this fieldwork by developing an ArcGIS Survey123 application, which the field staff accessed on tablets, eliminating the need for paperwork, and simplifying data collection.
Using the information collected, VHB was able to help RIDOT develop a systematic approach to crosswalk improvements throughout the state and, by using an ArcGIS application, it was easy to query and combine with other available roadway information to determine the crosswalks with the highest risk factors. The VHB team developed a dashboard to help RIDOT better view and understand the data, as well as automate the process of selecting safety improvements for each crosswalk.
RIDOT continues to use the dashboard as both a decision-making and tracking tool, which helps to more easily decide where to apply resources to improve safety and track the crosswalks enhanced in real-time.
Sean Raymond, Managing Engineer at RIDOT, praised the program saying, "The STEP Program has allowed RIDOT to prioritize and implement pedestrian safety improvements systemically at a statewide level, as well as program the improvements into the State Transportation Improvement Plan, up to 10 years out, to meet our goals for reducing fatal and serious injuries."
Due in part to this streamlined approach, RIDOT recently received a $1 million FHWA Accelerated Innovation Deployment grant for safety improvements.
In addition to recognition from the FHWA, DOTs across New England have looked to RIDOT's project as a case study for improving their own pedestrian safety. Project Manager Skye Levin and Project Lead Kayla Northup have presented the project to several other DOTs, including Massachusetts Department of Transportation and the Maine Department of Transportation.
Contact Skye Levin for more information on the RIDOT Statewide Pedestrian Safety Action Plan. To learn more about dashboard creation, contact Dale Abbott.