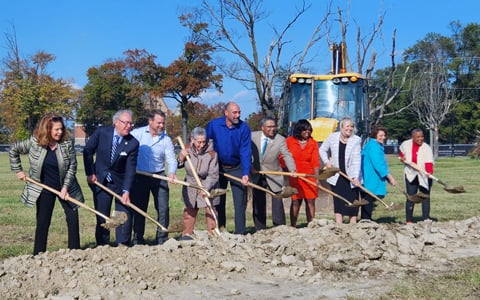 A ship repair and fabrication company, River Port S23, celebrated its groundbreaking ceremony this fall in Newport News, Virginia. The facility will serve as a ship repair fabrication warehouse and training campus and is projected to bring more than 322 jobs to the community. This economic development project for the City of Newport News aligns with their priorities to increase advanced manufacturing and provide jobs to support local trade schools and workforce education programs. VHB's involvement included site and civil engineering, landscape architecture, stormwater management, and utility design.
The River Port S23 headquarters will repurpose a vacant lot that was once a public housing complex in the city's Southeast Community. This site is part of a larger plan of development that includes a 40-acre waterfront facility across Terminal Avenue, also owned and operated by River Port S23. The two projects will be constructed over the next two years with an additional lot planned for future office and warehouse development. This $64.4 million investment will promote revitalization and expansion of jobs within this community that historically capitalized on the shipbuilding and military economy. With strong highway visibility and accessibility, and convenience to the waterfront and downtown, the 52,200-square-foot facility will also support the company's ship repair operations less than one mile away on the James River waterfront.
"This new investment in the Southeast community will breathe new life into a desolate city block that is ready for redevelopment," said VHB Project Manager Tony Loubier. "Workforce development is a guiding principle of River Port S23. It will be exciting to watch how this headquarters and training center will provide residents with an additional option for employment—keeping the community and its neighbors top of mind."
VHB is involved to numerous projects within the City of Newport News, including two projects adjacent to River Port S23: an early childcare center across the street, and the new Huntington Middle School and community center approximately 10 blocks northeast from the site. VHB is also providing landscape architecture and planning on the HRSD site plan redevelopment that includes a bicycle and pedestrian trail, and is a partner to Quinn Evans Architects on the Sherwood Shopping Center redevelopment project.
For more information on this project and VHB's additional experience in Newport News, Contact Tony.