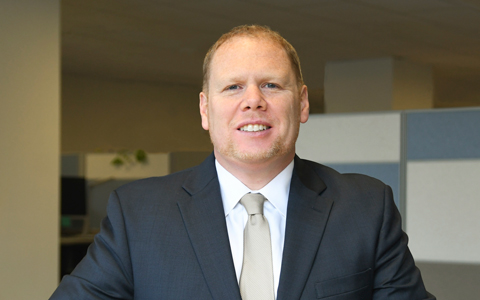 VHB's evolving land development practice in Metro DC welcomes Ryan McAlister to the firm as a Senior Project Manager. With rapid growth and investment occurring around our Nation's Capital, VHB has deliberately focused on increasing capacity to support the growth of clients and their future economic advancements. Ryan's leadership in planning; design; governmental affairs in complex zoning and land use requirements; and understanding of federal, state, and local requirements will be influential for moving new developments and critical projects forward.
Before joining VHB, Ryan served as a Planning and Landscape Architecture Department Manager at a national architecture and engineering firm where he managed and led interdisciplinary teams, supported business development practices, and oversaw the design process from due diligence to construction site plans for a variety of mixed-use, residential, commercial, industrial, parks and recreation, and transit-oriented development projects. He is also skilled in providing expert witness testimony to obtain project approvals, zoning and land use document preparation, and construction oversight services to verify constructability and contractibility.
With more than two decades of experience, Ryan has worked with hundreds of agencies and municipalities across the Mid-Atlantic and Southeast on behalf of developers, including the Maryland-National Capital Park and Planning Commission, Prince Georges County, MD, City of Greenbelt, MD, Maryland State Highway Administration, North Carolina Coastal Resources and Wildlife Resources Commissions, Gwinnett County, Georgia, and Athens-Clark County, Georgia. The insight and knowledge gained from this exposure gives him a broad understanding of various stakeholder project requirements, entitlement work, and approvals—a benefit to keeping projects moving forward.
"Delivering exceptional service to our client partners is our highest priority," said Jim Long, Chief Civil Engineer and Principal. "This includes assembling the strongest team of professionals that can manage key projects, provide regular communication to our partners, and follow through on project commitments. The incorporation of Ryan's diverse project background will allow us to explore additional ways to advance our practice and increase capacity."
Ryan earned a Master of Public Administration degree with a concentration in Planning, Policy, and Management from the University of North Carolina at Wilmington, and a Bachelor of Science in Landscape Architecture with a minor in Geographic Information Systems (GIS) degree from West Virginia University. Ryan is a Professional Landscape Architect in Maryland, North Carolina, and South Carolina, with pending licensure in Virginia and Georgia, and is a certified planner through the American Institute of Certified Planners.
To learn more about Ryan's experience and how he can assist you on your next project, connect with Ryan on LinkedIn.