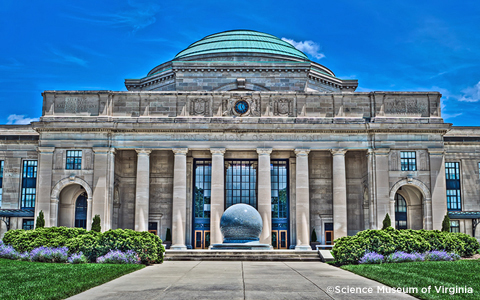 The Science Museum of Virginia celebrated the grand opening of a new free-standing, four-story parking deck this fall. With 400 spaces, the parking deck will be utilized by visitors from both the Science Museum of Virginia and the Children's Museum of Virginia, replacing the need for a surface parking lot that currently resides in front of the Children's Museum adjacent to Broad Street. This bustling location of more than six-acres, where visitors previously parked, will be converted into an open green space that museum patrons and the public can enjoy. As part of the design team with Glavé & Holmes, VHB developed plans for the new free-standing parking deck, including site design, survey, permitting, and the Environmental Impact Report (EIR).
The Science Museum of Virginia is located in the Scott's Addition neighborhood of Richmond and has been experiencing rapid redevelopment within the last 10 years. As a former warehouse district, the neighborhood now boasts local breweries, cideries, restaurants, retail, and apartment communities, but lacks urban tree canopy and communal park spaces. The newly designed green space will help meet this need for the growing community by incorporating a lawn space for recreation and gathering, tree-lined promenade, and sculpture plaza—providing opportunities for STEM programming and learning.
Part of the Science Museum's goal for the project was to enhance sustainability of the site by incorporating additional stormwater management facilities that went above the state requirements for development. The unique facility that was created contains equipment that sends site-specific data back to the Science Museum to monitor pollutant levels and water volumes that are being removed. The Science Museum received grant funding for this work and had a team of consultants, including David Sample, a professor in Virginia Tech's Biological Systems Engineering program, and Bill Lucas, President of Integrated Land Management, working on the proprietary stormwater facility design.
"This project reflects the Science Museum's dedication to the City and Scott's Addition for improving green infrastructure and sustainability that contributes to a future-focused, resilient community—qualities that embody our goals at VHB," said John Carty, VHB's Land Development Manager in Richmond. "The additional stormwater management facility features are hopefully something we will continue to see as a way to better analyze data long-term for water quality and quantity within a site."
VHB and the design team worked with the Science Museum and their consultants on how to seamlessly incorporate this facility into the site design and maximize the pollutant and volume reductions that the facility could achieve, aligning with their strategic goals and values of enhancing a sustainable community.
To learn more about VHB's Richmond office, visit their office page on our website or contact John Carty.