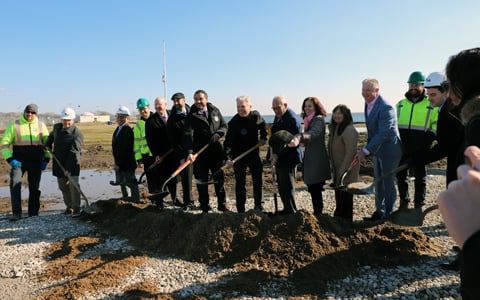 The Village of Patchogue, NY, celebrated its groundbreaking ceremony this month at Shorefront Park. Committed to investing in and benefiting the local community, Patchogue, in partnership with VHB, will replace Shorefront Park's antiquated bulkhead with a new living shoreline design. While the current bulkhead has been failing and allowing erosion within the park property for years, the resilient nature-based living shoreline will better protect against coastal erosion and storm surges, improve water quality, and help reduce flooding in the local community.
The groundbreaking ceremony brought together a mix of officials from The Village of Patchogue, including Mayor Paul Pontieri, along with representatives from the New York Department of State (NYDOS), the New York State Department of Environmental Conservation (NYSDEC), and other community leaders. In attendance for VHB were Project Manager Carlos Vargas, as well as Kevin Walsh, Nick Rutigliano, David Kennedy, and Maria Olsen.
As prime consultant on the project since 2015, VHB provided grant funding support services and led several phases, including permitting, design and engineering, bid administration, construction administration, and, upon completion, will participate in post-construction and monitoring services. Once complete, the project will feature more than 1,300 feet of living shoreline containing a rock sill, salt marsh, and bio-retention basins. This will mark New York's largest permitted living shoreline project to date.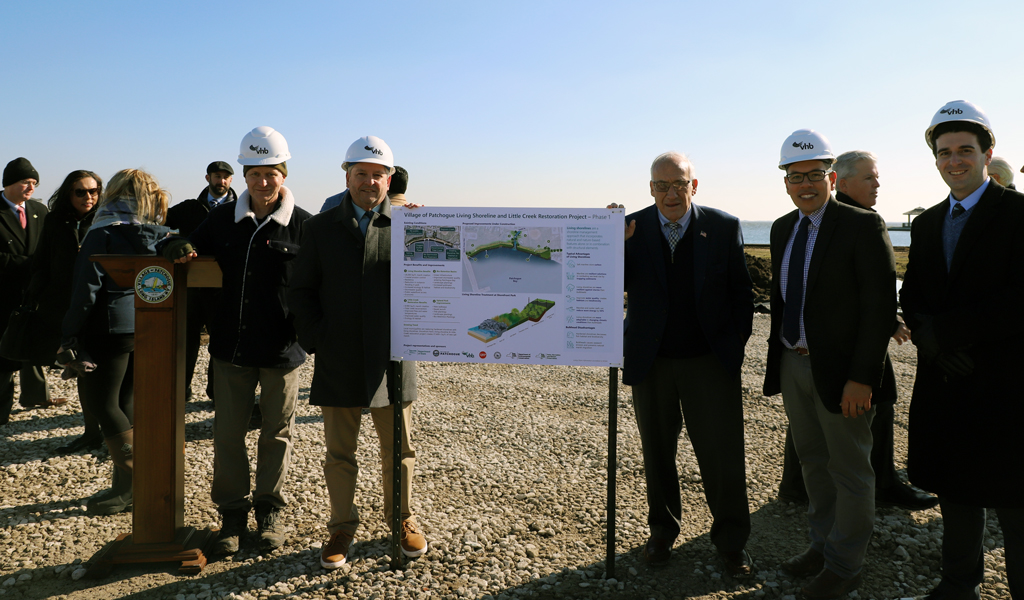 The living shoreline takes a hybrid approach to protecting and managing the coastline, coupling natural and nature-based features in combination with meticulously designed and engineered structural elements. Utilizing a wave climate analysis report, the rock sill structures were designed to the optimal height needed to resist the 50-year storm. Each stone will be individually and precisely placed to absorb maximum wave energy, with strategically located narrow gaps spaced throughout to allow water to flow gently into the salt marsh.
Meanwhile, with a combination of native vegetation and sand dunes, the salt marsh will help improve water quality, increase biodiversity, and provide new fish and shellfish habitats. VHB is also working with the Cornell Cooperative Extension of Suffolk County Marine Program to potentially reintroduce other native aquatic species, like oysters and seagrass. The bio-retention basins will work to pretreat and infiltrate the bulk of stormwater currently discharging directly into the bay. Like the salt marsh, these basins also increase habitat and biodiversity on-site within the park.
"Shorefront Park's living shoreline is an incredible example of how our commitment to sustainable and resilient solutions can merge with our experience in engineering and design," said Carlos. "Between climate change and rising sea levels, we're well equipped to provide our coastal communities with alternative and innovative solutions for preserving upland, limiting land loss, and improving ecological integrity."
In addition to updating the shoreline, Little Creek, which flows through the middle of the park, will undergo restorations to alleviate flooding, stagnation, and poor water quality. The project also plans to redesign some of the park's recreational features, including updated walkways, landscape plantings, and a new kayak launch.
These updates to Shorefront Park are expected to be completed by Summer 2023 while the team plans to begin an additional phase of updates in Fall 2023.
Patchogue's Shorefront Park project joins a growing list of VHB's resiliency projects dedicated to protecting coastlines, like the Ohio Creek Watershed project in Norfolk, Virginia, which features more than 2,000 linear feet of living shoreline.
Watch Resilient Shoreline Design to learn more about VHB's insights on protecting and enhancing ecosystems with living shoreline designs or contact Carlos Vargas to get started today.