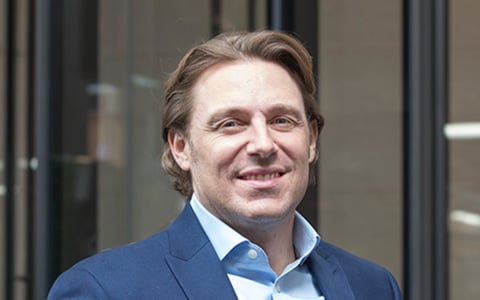 VHB welcomes Stéphane Lefebvre, PE, ENV SP, as Northeast Transportation Market Leader. In this role, Stéphane will oversee the region's strategic growth for the transportation market in both the public and private sectors while promoting VHB's integrated approach to deliver complex, multidiscipline projects across all markets.
Stéphane brings nearly 20 years of experience in architectural, structural, and civil engineering for several major urban infrastructure and private development projects. He is highly regarded in the transportation industry and recognized for his work with the Metropolitan Transit Authority (MTA) and other State and City transportation/planning agencies, as well as for leading Transit Oriented Development (TOD) projects for large private New York Developer clients, including Vornado Realty Trust, SL Green, Extell, and Hines.
"We're experiencing a remarkable period of growth in the Northeast, and we're thrilled Stéphane is joining us to help lead VHB's vision and teams as we continue to partner with clients on transformative transportation projects," said Joe Pizzurro, NYC Managing Director. "His exceptional business acumen, proven leadership, and robust experience will be instrumental in further strengthening our transportation footprint in the New York metro region."
Prior to joining VHB, Stéphane served as Transportation-Infrastructure Principal and Practice Leader for a global professional services firm in New York City. His technical experience encompasses end-to-end project phases, from planning and design through construction—including infrastructure elements design, contract plan preparation, field inspections, structural evaluation and analysis, report preparation, and design-build delivery.
Stéphane holds a BS in both Architectural Engineering and Civil/Structural Engineering from Drexel University and is a Licensed Professional Engineer.
Connect with Stéphane via email or LinkedIn and learn more about our transportation market and services today.