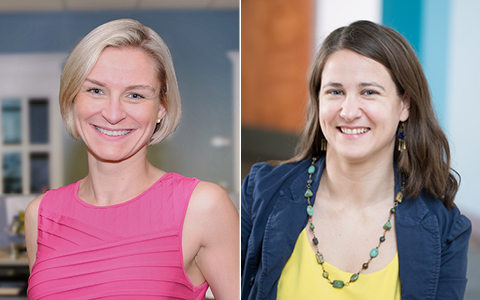 Two VHB employees who exemplify VHB's values were recently recognized for their impact on the AEC industry. Engineering News-Record recognized Allison Stewart-Harris and Erin Murphy as two of their 2022 Top Young Professionals in the Southeast. In addition, Erin was selected for the publication's 2022 National Top 20 Under 40, the culmination of the program which honors the best professionals across 10 regions. The annual program recognizes promising construction industry professionals who exhibit notable achievements in terms of career and industry leadership, community service, and creating landmark projects. Erin and Allison have been instrumental in VHB's expansion in the metro Atlanta region through significant environmental services contributions and a burgeoning community planning practice.
"I'm pleased that Allison and Erin were singled out to receive this important industry recognition, because I see the impact their technical knowledge and leadership has on elevating our communities," said Fabricio Ponce, Managing Director, Atlanta. "Our employees and our clients look to Allison and Erin as trusted advisors, consultants, and change-makers that exemplify how we can have a positive impact on the places we live, work, and play through our personal and professional lives."
Allison is a community planner with more than 15 years of experience leading re-development strategies, long-range planning, and transit-oriented development projects throughout the Southeast. Her rich education background—a Bachelor of Arts in History from Rice University and a Master of City and Regional Planning from University of Pennsylvania combined with her professional experience—means Alison brings an interdisciplinary perspective and understands the impact of places on our people and communities. Her passion for the Atlanta region, specifically in tailoring plans that align with a community's history and vision for the future, extends to current work with the Gwinnett Place Community Improvement District on planning for revitalization of Gwinnett Place—a former suburban shopping mall site.
"A planner's role is sometimes behind-the-scenes in how our communities get built," said Allison. "It's an honor to be recognized by ENR as an up-and-coming leader in the AEC industry, particularly during such a challenging year."
Erin is the Atlanta Environmental Services Manager at VHB and leads a 30+person team of ecologists, archaeologists, historians, ecologists, and other environmental professionals who partner closely with clients in state and local governments, transportation agencies, and energy markets to provide a broad spectrum of interdisciplinary environmental services. Erin holds a master's degree in Heritage Preservation, and her 16 years of experience in successfully balancing infrastructure needs with stewardship of the environment in the Southeast shaped her as a National Environmental Policy Act (NEPA) planner and a regionally recognized thought leader for transportation and energy projects. She exemplifies VHB's integrated services approach to projects by serving as the firmwide Cultural Resources Discipline Lead.
"I'm proud to have been selected as part of this amazing group of professionals," said Erin. "I'm grateful for the incredible support system at VHB who helped me further my professional growth over the last six years and encouraged me in work-life balance."
Engineering News-Record Southeast will feature longer profiles of the 2022 awardees in an upcoming issue. See the full list of Southeast awardees and national Top 20.