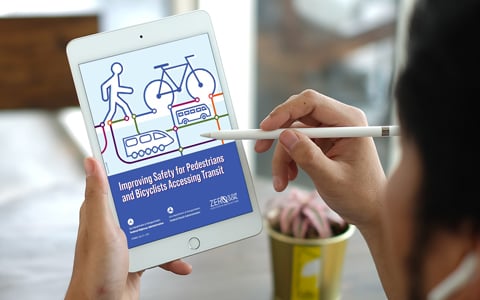 The United States Department of Transportation (USDOT) announced the release of the Improving Safety for Pedestrians and Bicyclists Accessing Transit guide this week at the National Association of City Transportation Officials (NACTO) Designing Cities Conference. This annual event convenes planners, engineers, transportation agencies, and officials from across the country to collaborate on innovative ways to advance transportation in cities. This new safety guide aligns with this purpose by providing a framework for agencies to improve safety for individuals accessing transit. VHB supported the Federal Highway Administration (FHWA) and the Federal Transit Administration (FTA) to author the guidebook, providing research, best practices, safety considerations, and case studies.
Transit use can increase the safety for all roadway users, but to do that effectively requires a connected network of multimodal facilities that are usable by and welcoming to everyone. The Improving Safety for Pedestrians and Bicyclists Accessing Transit guide provides specific considerations to agencies who plan and design transit facilities and the multimodal infrastructure that people use to access those facilities.
"We know the numerous benefits that public transportation provides—connecting people to places, reducing harmful emissions, and enhancing equitable economic development," said Meghan Powell, Mid-Atlantic Director of Transit & Rail at VHB. "However, for transit systems to truly be successful, the physical safety of transit passengers while using and accessing transit facilities is crucial. This guide provides tools, data, and creative approaches for planning, evaluating, and implementing safer accessibility so that transportation mobility is improved for people of all backgrounds, whether you solely depend on transit or not."
In addition to outlining ways to enhance pedestrian and bicycle safety, the document includes various tools to help identify safety issues; methods to assess conditions at transit stops and conduct facility inventories; and multiprong methods to improve safety and access, such as how to change driver behavior near transit stops and manage sidewalk maintenance.
"By having a guide distributed by the USDOT, a cohesive approach to transit facility safety can improve nationwide," said Elissa Goughnour, author of the guidebook and Senior Project Manager at VHB. "We know the benefits of transit, but transit will only reach its full potential if people are able to use it safely. By working together to advance smart communities and support these enhancements, more people of all ages and abilities will be able to use transit."
Interested in learning more about the Improving Safety for Pedestrians and Bicyclists Accessing Transit, or hearing about the additional work our Safety Teams are doing across the Country? Contact Elissa Goughnour or access the guide on USDOT's website.