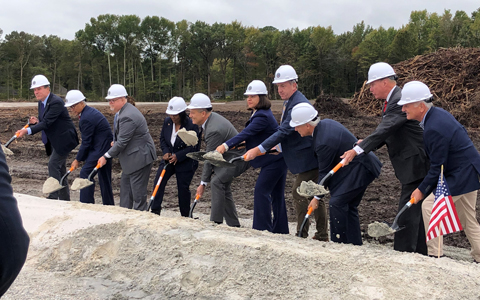 The new Community Based Outpatient Clinic (CBOC) for the U.S. Department of Veterans Affairs celebrated its groundbreaking this month in Chesapeake, Virginia. With one of the fastest growing Veteran populations in the country, the CBOC will provide an accessible suite of healthcare services, including eye care, mental health services, physical therapy, prosthetics, laboratory and pharmacy, and radiology to Veterans across the Hampton Roads region. As a teaming partner to Gresham Smith, VHB provided a full suite of integrated services, including environmental permitting for wetlands, surveying, site and civil engineering, and landscape architecture.
When complete in 2024, the 205,000-square-foot facility will be located on a 25-acre site that will leverage existing wetlands for an attractive, natural habitat and backdrop. The design of the facility prioritized restorative healthcare options beyond traditional means, including a healing garden, courtyards, outdoor seating, and spaces for respite for employees and patients. VHB's landscape architects designed the outdoor spaces to enhance the Veteran experience, understanding the influence these natural sanctuary spaces have on patients, both mentally and physically.
"Research has proven that there are significant health benefits to being immersed in nature," said Myrina Gaglione, VHB's Project Manager. "Healing gardens and access to nature have a direct correlation to positive mental health outcomes and stress reduction—making this a focal point of the project."
The new facility will be located adjacent to Chesapeake Regional Medical Center and Cypress Landing Veterans Housing, a 50-unit community for low-income, homeless veterans that VHB played a role in as site and civil engineer when it was constructed in 2018. As the U.S. Department of Veterans Affairs continues to build new CBOCs across the U.S., they are being strategic about the placement of their facilities.
"One of the most significant features of this new CBOC facility is its location," said Myrina. "In addition to a brand new, state-of-the-art facility, the VA has also been deliberate about constructing them where Veterans reside so that healthcare is more readily accessible. With this option of care on the Southside of Hampton Roads, it eliminates numerous barriers for receiving treatment, such as access to transportation, traffic delays, and long wait times."
In addition to the CBOC project in Chesapeake, VHB has also been involved in the CBOC project in Lakeland, Florida—a 133,000-square-foot replacement facility that is expected to serve more than 23,000 Veterans when it opens in fall 2023. VHB's landscape architects designed a Flag Plaza, healing garden, and rehabilitation courtyard as part of the Lakeland campus.
VHB is active in the Federal Market with an understanding of each agency's priorities, requirements, approval time frames, and budgeting practices. To learn more about VHB's Federal experience, visit the Federal Government page on our website.