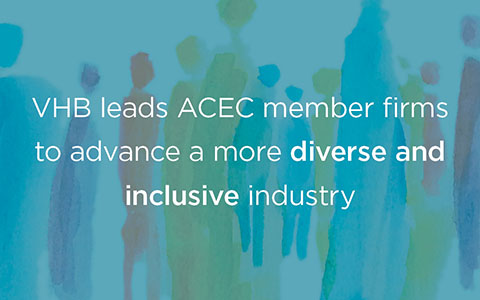 In a recent article for Engineering Inc., "Expanding the Conversation," VHB's President and CEO Mike Carragher and Chief People Officer Keri Kocur talk about the DPC Diversity and Inclusion Working Group (DIWG) that VHB spearheaded with Woodard & Curran and RS&H, what it aims to achieve, and why their mission is so important.
"The DIWG represents 22 member firms and is the first coalition of its kind devoted to diversifying the A/E/C industry. Our goal is to create more inclusive environments throughout our industry so that everyone is able to bring their whole, authentic self to work," explained Mike.
"This is not an overnight process," added Keri. "but I am confident that the best practices and actionable suggestions the group has crafted will help move the needle."
Read "Expanding the Conversation: Twenty-two engineering firms lead an effort to promote industrywide progress on diversity and inclusion"
Read the DIWG report, "Diversity & Inclusion, Keys to Success & Lessons Learned," based on the findings of the working group.