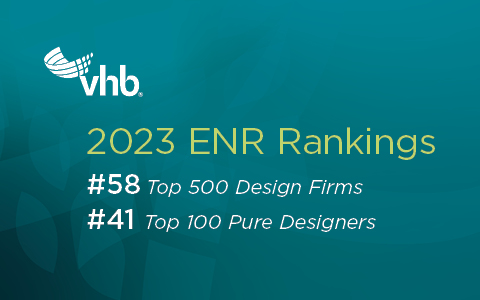 VHB's continued growth has led to our annual inclusion on Engineering News-Record's Top 500 Design Firms List, which ranks the largest engineering, architectural, and environmental design firms according to revenues.
In the publication's widely read lead story, "2023 Top 500 Design Firms Power through Inflation" ENR looked to VHB and our consultant peers for insights in understanding, navigating, and evolving through inflation and other disruptors.
ENR noted that VHB counts itself among those firms with diversified business streams. "As we look ahead four to six months, the transportation market will stay strong due to IIJA funding," said Mike McArdle, VHB Chief Development Officer. "After pausing projects during the pandemic, our public clients have a backlog of work coming back on line."
In looking to understand rapid energy transformation, ENR turned to VHB's Energy Market Leader Kris Dramby, who noted a need for bold thinking and innovation. "There is clear progression toward a renewable energy future, creating an acceleration in the integration of electric vehicles, on- and offshore wind, power storage, and more," he says. "How we generate, transmit and distribute energy impacts all markets and geographies and presents a growth opportunity to provide a higher level of consultancy services to our clients in both the public and private sectors as they transition to a net-zero future."
We're proud to be recognized by ENR not only for our growth within a competitive industry, but for the depth of our market knowledge and our comprehensive response to ongoing industry disruptors and challenges. VHB is ranked 58 in the Top 500 Design Firms (up 4 spots) and 41 in the Top 100 Pure Designers (up 6 spots).
Read the full article and view rankings.