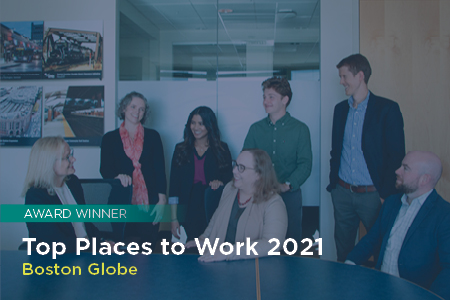 VHB has been named one of the Top Places to Work in Massachusetts in the 14th annual employee-based survey project from The Boston Globe. Out of 363 organizations that participated in this year's survey, VHB was among the 150 winners, ranking 21st on the "Large Companies" list.
Top Places to Work recognizes the most admired workplaces in the state. More than 250 Massachusetts VHBers completed the survey to earn VHB this respected ranking. The survey measured employee opinions about the company's direction, execution, connection, management, work, pay and benefits, and engagement. The companies that made the list share a few key traits, including offering flexibility, tracking progress on efforts to support a diverse workforce, and, above all, remembering to have some fun along the way.
VHB has made a commitment towards sustainable evolution, growth, and continued success in light of the changing nature of our industry and the world in which we live. Investing in the development, well-being, and resiliency of our employees is what guides us through these pivotal times. "The workplace is undergoing a once-in-a-lifetime transformation, and the companies that embraced that change, and put their employees' needs first, really stood out," said Katie Johnston, the Globe's Top Places to Work editor.
"VHB is honored to be recognized for our efforts by our employees," said Tom Jackmin, Senior Vice President and New England Regional Manager. "We are excited to see what 2022 has in store for us as we deliver future-focused solutions for our clients and communities."