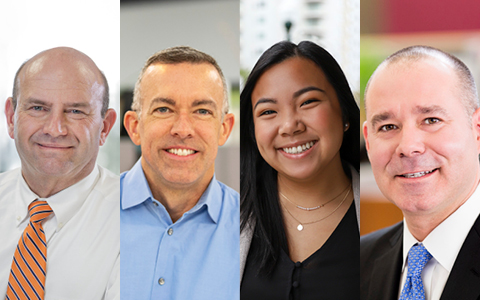 In recognition of Veterans and Military Families Month, VHB IDEAL, the company's DEI employee resource group, hosted a panel discussion with VHB employees (from left: Jim Long, Joe Wanat, Jasper Ocampo, and Khris Gregoire) who have served in the military and have family members who are Veterans. The discussion was hosted by Joe Wanat—Managing Director of VHB Metro DC, a combat Veteran with 33 years of service, and a current member of the U.S. Army Reserve—and explored experiences, insights, and perspectives related to military service.
The panel included representation from every branch of the U.S. Armed Forces. More than 85 employees from across our footprint joined in to listen and learn, with an opportunity for contributions and questions at the end.
The discussion began with introductions, kicked off by Joe, who is a Lieutenant Colonel and Battalion Commander for an Army logistics unit in New Hampshire responsible for long-haul transportation, fuel distribution, and handling of ordnance. Panelists were then asked how military service began for them or their family members, how exposure to military service has influenced career choices, and challenges and skills that stemmed from military service.
Panelists shared deeply personal stories that inspired listeners and brought home the realities of military service, including the honor of serving one's country and the hardship of being away from home—or being the one at home while a loved one is called to active duty.
The Challenges of Balancing Service with Family
Balancing family with the demands of military service was a recurring theme echoed by all the panelists.
"For me, with three family members and my significant other serving in the military, the distance is the toughest part," shared Jasper Ocampo, a Civil Designer in VHB's Virginia Beach office. "You have to be prepared for not spending every holiday with them, or having them leave with one week's notice, not knowing when they'll be back. And when your family members come back from their tour, they're different. You just have to be understanding and be patient with them throughout that process."
"I've been deployed overseas five times, including several long tours," said Joe. "I enjoy the camaraderie, and I really like serving my country. But I recognize that it's a hardship on my wife and my kids. I was deployed when we had a one-year-old and my wife was pregnant with my son, so I missed his birth. Many service members feel a tremendous amount of guilt from family separation, but you have to get past it because you have a job to do."
Lessons and Skills Learned
Another theme was the maturation and personal growth, skill sets, and capacities fostered by military training and service.
"I matured a lot in the Army," said Joe, "and gained leadership skills that have direct parallels on the civilian side. I also learned that with rank and authority comes a lot of responsibility."
Jim Long, Chief Civil Engineer at VHB Metro DC, also reflected on leadership, saying, "When I got to active duty at Andrews Air Force Base, they assigned me 21 people to supervise as a brand new engineering graduate. In my next position, in the civil engineering squadron, I supervised 28 people. So I got all my management experience early on in my career, which has been a great asset in civilian work."
"Nothing can prepare you for the experience of being on a submarine, under water for weeks at a time," said Khris Gregoire, Chief Legal Officer. "It's an intense learning experience that builds your capacity to think and act under pressure and work within a closely interdependent unit."
Strengthening Our Culture & Community
As audience members finished their last questions and the panel wrapped up, people agreed it had been an incredible opportunity for sharing, learning, and connecting.
"At VHB, we pride ourselves on a welcoming, inclusive culture, where we celebrate people for who they are," said Keri Kocur, Chief People Officer. "This panel opened our eyes to the diverse perspectives of our employees in uniform as well as those with family members in the U.S. Armed Forces—and all that they contribute to our communities and sacrifice serving our country."
"Thank you to all our distinguished panelists," continued Keri. "We could not be more proud to have you as part of our VHB family."