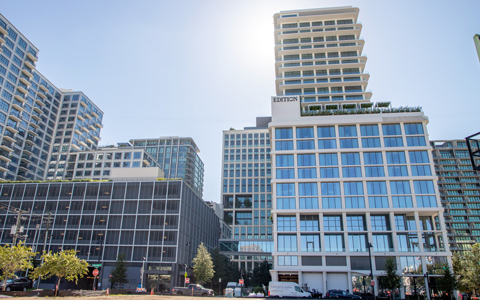 The Tampa, Florida, skyline doesn't look the same as it did two years ago. The new Water Street Tampa development is transforming 56 acres of underutilized vacant land and parking into a vibrant, best-in-class, mixed-use neighborhood on the water and in the heart of the city. From securing early foundation permits to hotel valet timing analyses, an integrated team of VHB civil engineers, transportation planners, and real estate professionals worked closely with Strategic Property Partners on two key projects within the recently completed first phase of the development.
Water Street Tampa is the world's first WELL Precertified Community designated by the WELL Community StandardTM, a certification that recognizes a neighborhood's design and programming to promote well-being and enhance quality of life via benchmarks in air, water, nourishment, light, movement, thermal comfort, sound, materials, mind, and community.
Green spaces and infrastructure that encourages multi-modal transportation
Situated adjacent to community anchors like the Tampa Convention Center and Amalie Arena, Water Street Tampa is designed to be a nine million-square-foot neighborhood of commercial, residential, hospitality, entertainment and retail space that is easily walkable, accessible, and enriched with activities for community enjoyment and engagement. Key to the development's success is mobility, access, and the creation of dynamic public spaces that elevate healthy community design and support sustainable living.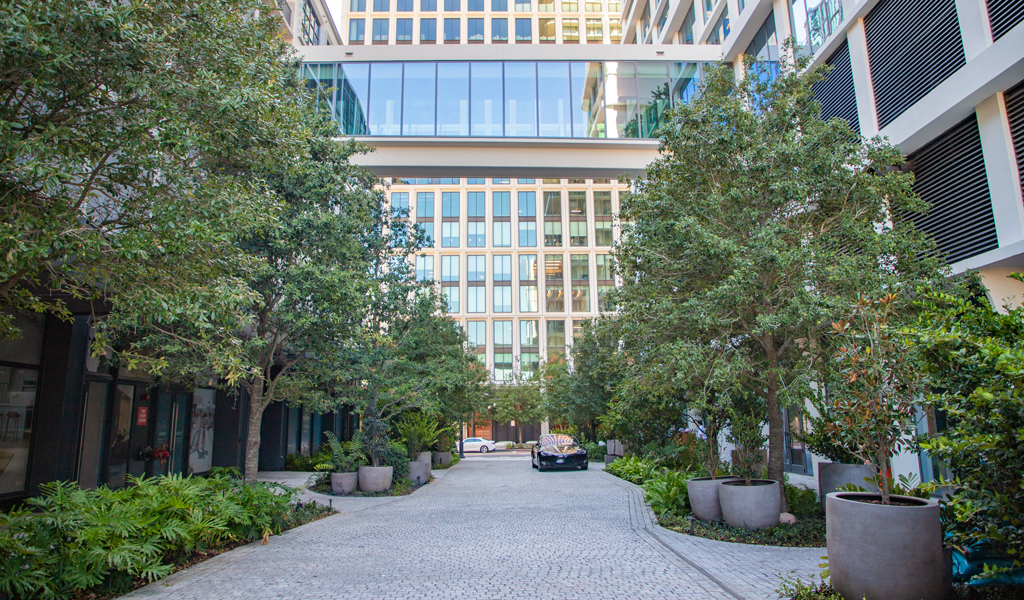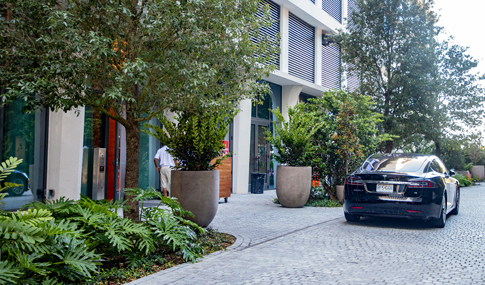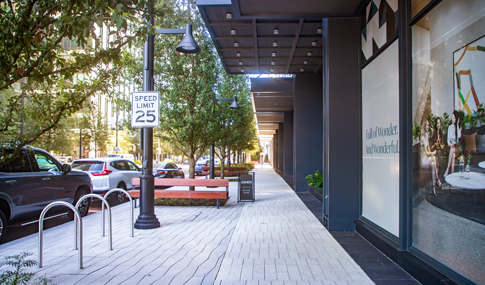 "Successful mixed-use starts with smart planning and an understanding of how this development-type creates a vibrant destination," said John Eveland, VHB's Director of Land Development, Gulf Coast. "VHB's relationships with the City of Tampa helped secure entitlements and early permits so construction could get started as quickly as possible."
The largest residential building at Water Street Tampa is Asher, a 490-unit residential tower which includes ROOST Tampa, a boutique 97-room high-design extended-stay apartment hotel. Adjacent to Asher is The Tampa EDITION, the city's first five-star hotel and condominium development which contains 172 guest rooms and suites as well as 38 condominiums. Both buildings have a mix of ground-floor restaurants and retail. VHB civil engineers coordinated with the master infrastructure engineer and contractor on the design for all services to the two buildings, while working closely with SPP and a world-class design team of architects, building engineers, and landscape architects.
Mixed-use Curbside management helps meet demand
Understanding the impacts an influx of new residents and visitors bring to surrounding street networks is imperative to vibrant mixed-use communities that include residential housing, hotels, and retail. VHB's transportation engineers used their knowledge of curbside management and valet experience from urban areas like New York City and Washington, DC, along with a study of the sites and uses, to program the valet and street parking operations for Asher and The Tampa EDITION, a block containing one million-square-feet of gross building area.
"VHB conducted a valet timing and turnover analysis to evaluate the safest, most efficient valet operation within the proposed drop-off curb design at The Tampa EDITION for both the hotel and condominiums," said Ryan White, VHB's Senior Transportation Engineer. "Our analysis assured the City of Tampa that curb space was ample enough to handle demand and would not impede traffic flow on an important community throughway."
VHB's valet analysis also helped hotel operations plan for valet runners and ambassadors to meet demand. Contact John to learn more about how VHB can bring your real estate vision to life.