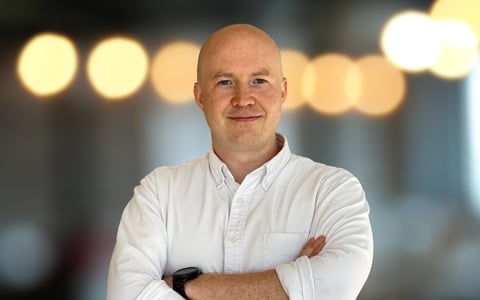 VHB is expanding its smart communities services to leverage the full potential of technology-enabled and data-informed consulting to improve the places where we live, work, and play. Andrew Buck, AICP, has joined VHB's Northeast region as a Senior Urban Planner/Technologist, bringing his unique experience in combining traditional planning methods with emerging technological approaches.
Based in New York City, Andrew brings more than 10 years of practice in planning and design. At VHB, Andrew will work across markets to provide planning and design, environmental, transportation planning, and land development services. His innovative approach includes integrating data, geospatial systems, and smart technology in the planning and design process.
"The addition of Andrew to VHB's Northeast team will expand our ability to approach projects across all markets through a technology-focused lens," said David Quart, Northeast Region Real Estate Market Leader. "We're excited to collaborate with Andrew as we enhance the delivery of resilient, forward-thinking solutions that help our clients to meet today's challenges while considering the needs of tomorrow."
Andrew's career has given him the opportunity to work with a variety of federal, municipal, institutional, and international clients to solve complex problems through the application of technology and data analytics. His key areas of experience include campus planning, master planning and urban design, infrastructure planning, climate resiliency and adaptation, municipal planning and management, community planning, and historic preservation. Notable projects include campus planning for the United States Military Academy at West Point, Long Island City Hunter's Point, and the Village of Haverstraw Comprehensive Plan and Community Development Plan.
"The future of VHB's Planning and Design services are both tech-enabled and data-informed, and in the Northeast, Andrew will bring his innovative perspective to provide scalable, value-added solutions for our clients and the communities they serve," said Ken Schwartz, Planning & Design Service Leader. "We're thrilled to welcome Andrew to our team and know his experience will take our services to the next level, especially when it comes to applying data, analytics, and technologies."
Andrew is an accredited professional by the American Planning Association and an active member of the organization's National and New York Metro Chapters. He holds a Master of Regional Planning from Cornell University.
For more information, contact David Quart.