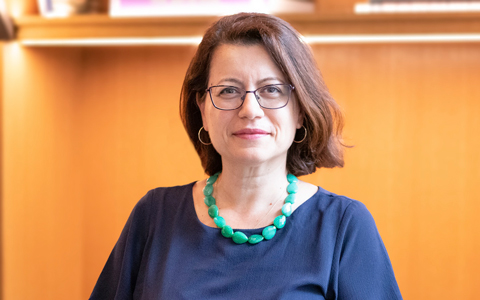 VHB is pleased to welcome Jenny Kapelyan, PE, as Operations Manager in our New York City office. In this role, Jenny will support the business and financial goals of the office, manage key client relationships, and help optimize project performance and delivery.
During her 25-year career, Jenny has served in increasingly responsible roles working on critical transportation and infrastructure projects throughout New York City. Recently, she served as the project controls manager for the LaGuardia Central Terminal Building Replacement for the Port Authority of New York and New Jersey (PANYNJ), where she led a team responsible for overall scope and budget control, progress reporting, subconsultant contracting and administration, and document control. She has also managed project controls for the LaGuardia AirTrain and the Number 7 Subway Line Extension.
"Jenny's experience managing transformative infrastructure projects will enhance our New York City operations," said Joe Pizzurro, NYC Managing Director. "We're confident that Jenny's leadership skills and industry knowledge will help us deliver complex, value-added solutions for our clients."
Prior to VHB, Jenny served as a senior project controls manager at a global engineering professional services firm, providing project controls and engineering solutions for environmental, preliminary, and final engineering design. She holds a Bachelor of Science in Civil and Environmental Engineering from Cornell University and is a licensed professional engineer in New York. Jenny is an active member and former President of the Greater New York Chapter of Women's Transportation Seminar (WTS-GNY).