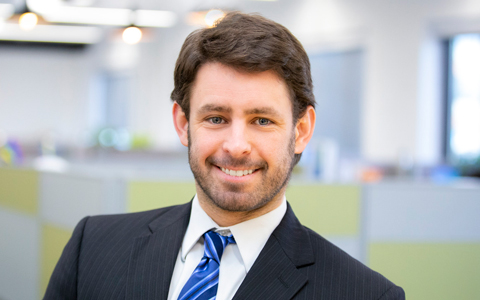 VHB continues its focus on sustainability with the addition of Ken Donald, PE, to its Watertown office as Senior Project Engineer and Carbon Reduction Lead. Bolstering the New England Structures team with a decade of lessons learned as a seasoned bridge engineer, Ken brings a unique, forward-looking focus on carbon reduction to his new role.
Ken will help position VHB as a leader in the decarbonization of transportation projects. While the building construction industry has been incorporating carbon dioxide (CO2) emissions metrics, the transportation sector has not yet adopted widespread practices for quantifying its embodied carbon footprint. Embodied carbon is the total emissions produced during the construction of a transportation project. Using available guidance from the American Institute of Steel Construction (AISC), the National Steel Bridge Alliance (NSBA), the National Ready Mixed Concrete Association (NRMCA), the Environmental Protection Agency (EPA), the Federal Highway Administration (FHWA), as well as other associations around the globe, Ken is working to develop a tool for identifying where carbon emissions are concentrated and determining mitigation efforts.
By performing a full lifecycle analysis at the outset of an infrastructure project, Ken can accurately measure the carbon footprint of a project's construction materials. This holistic framework takes into account all of the greenhouse gas (GHG) emissions produced in every facet of manufacturing, transporting, and installing each material.
"We can't manage what we can't measure and this analysis lets us determine where carbon emissions are concentrated so we can respond appropriately to reduce the project's carbon footprint," Ken said.
As with any endeavor that changes an industry's status quo, there are mistaken assumptions to challenge. Clients often associate carbon reduction measures with new materials that require DOT approval and have high price tags. And while those are available and can be considered, they shouldn't be the first option. Cutting carbon emissions starts with using less materials and designing more strategically. Ken points out that smarter design typically also yields cost and schedule savings.
Steel and concrete are two of the world's largest carbon emitters, so designing in a way that reduces the amount of those materials will drastically reduce the levels of CO2 produced. Innovative construction methods can also pay dividends. Stop-and-go traffic is known to increase GHG output, so limiting construction stages, or utilizing accelerated bridge construction (ABC) techniques like self-propelled modular transporters (SPMTs), which have been successfully deployed on multiple VHB projects, not only makes drivers happier, but is better for the environment. The amount of construction waste on site can become significant quickly, so using precast elements not only reduces on-site construction time but also material waste.
Ken's lifecycle analysis will give clients a method for accurately measuring these previously unquantified carbon reduction savings. As his role evolves, he envisions working with engineers and designers in other disciplines across VHB in implementing this emissions measurement tool for their projects.
"With his creative approach to designing infrastructure and reducing environmental impacts, Ken is a natural fit for our team," said Andrew Burkholder, Director of Structures, Massachusetts. "Finding innovative ways to deliver projects while driving sustainability aligns with VHB's core philosophy. As our clients look for ways to meet GHG emission reduction targets, Ken's pioneering work will continue to make us the trusted advisor they turn to."
Ken holds a master's degree in Structural Engineering and a bachelor's degree in Civil Engineering from West Virginia University. He is a licensed Professional Engineer in Massachusetts and Rhode Island.
Connect with Ken on LinkedIn or by email.
Discover more about VHB's sustainability services and our holistic approach to problem solving to address and integrate social, environmental, and economic issues through innovative solutions.