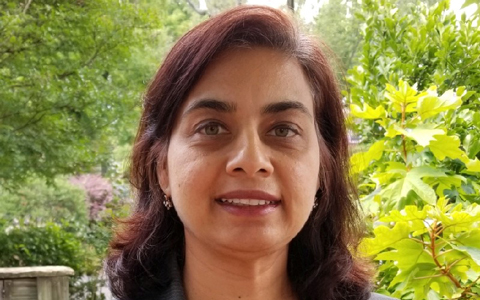 VHB is pleased to welcome Sonali Soneji as Director of Strategic Development for the company's Metro DC offices. In this role, Sonali will be dedicated to overseeing complex projects, assisting in the development of the offices' growth strategy, and providing knowledge of local government processes to assist our teams in delivering more efficient railroad, transit, transportation, and mobility services in Metro DC and beyond. She will also be focused on leading VHB's efforts in the planning and development of micro-transit services.
As the former Planning Program Administrator for Virginia Railway Express (VRE), Sonali brings more than 20 years of planning and design experience with a focus on transportation planning, public policy, and stakeholder engagement strategies. Sonali led the planning and funding for some of VRE's most complex, high-profile projects, serving as the Project Manager for the Crystal City Station Improvements, L'Enfant Station and Fourth Track Improvements, and Manassas Park Station Parking Expansion. As a VRE representative, she advocated for rail and transit at regional meetings, including committees of the Transportation Planning Board (TPB), Northern Virginia Transportation Authority (NVTA), and Fredericksburg Area Metropolitan Planning Organization (FAMPO).
"Sonali has a true passion for advancing transit and rail opportunities across Metro DC, which makes her a great fit for our growing transit and rail team," said Mark Colgan, Managing Director of VHB's Metro DC office. "Her established relationships with regional stakeholders and regulators, and knowledge of local governments along the VRE Manassas and Fredericksburg lines, will allow us to be better aligned with their policies and initiatives and provide more efficient service to our clients."
Prior to her six years at VRE, Sonali was a Principal at an Arlington planning and design firm focused on transportation performance monitoring and research. Her firm developed travel profiles for residential and office buildings in Arlington and studied the public health impacts of Arlington's transportation demand management (TDM) program. Sonali has developed transit development plans for transit agencies in Virginia, including VRE, Potomac and Rappahannock Transportation Commission (PRTC), and Arlington Transit (ART).
Sonali is a graduate of Harvard University where she earned her Master of Landscape Architecture degree. She currently serves on the Arlington County Commission for the Arts, volunteers for the Urban Land Institute (ULI) UrbanPlan program, and is a member of the American Institute of Certified Planners (AICP).