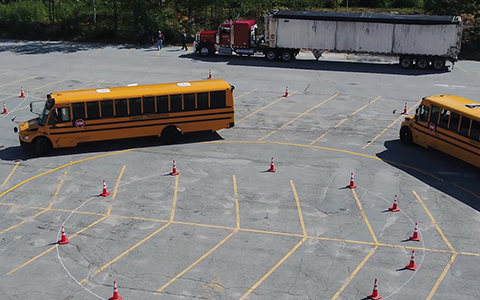 VHB's Bedford, NH, office recently celebrated winning the Gold Award for American Council of Engineering Companies of New Hampshire (ACEC-NH) 2020 Engineering Excellence Awards for the US Route 202 Intersection Improvements Project in Jaffrey, NH. The project included the development, evaluation, preliminary design, and environmental documentation of a proposed realignment of US Route 202 by constructing a new bridge crossing the Contoocook River and two roundabout intersections. The project was honored based on overall design excellence, quality, innovation, value, and client satisfaction.
With its active business district, views of Mt. Monadnock, and historic architecture, Jaffrey represents much of what it means to live in New Hampshire. For years, traffic congestion through the downtown area has been debated on local and statewide levels. As a result, the downtown area has been the subject of studies, plan updates, and a Plan NH charrette. These efforts identified US Route 202's "dog-leg" intersection with NH 124 and 137 as a key opportunity for improvement, citing concerns such as pedestrian and bicyclist safety, queuing storage, signal timing, parking, and space for local trucking activities. To mitigate these problems, the New Hampshire Department of Transportation, in partnership with the Town of Jaffrey, retained VHB to address the traffic congestion and safety-related deficiencies, while enhancing pedestrian mobility and supporting the quality of life and economic vitality of Jaffrey's downtown.
VHB explored ways to collect data and improve traffic efficiencies with minimal disturbance to the project area. For example, VHB's Unmanned Aerial System team collected origin/destination data electronically using drone technology. Additionally, in response to operational concerns regarding the roundabout alternative that were raised at the first public meeting, VHB orchestrated an innovative roundabout demonstration. Laying out the actual dimensions of the roundabout on a Saturday morning in a nearby high school parking lot, VHB invited truckers, the town's fire department, and the school bus company to bring their vehicles to drive through the roundabout. A drone captured the event on video, which was shown at subsequent public meetings and alleviated the concerns.
"This project showcased how VHB can navigate local issues and address them using innovative solutions and a range of integrated services from one coordinated, responsive project team," said Marty Kennedy, Senior Principal at VHB.
Through a robust public engagement process, the VHB team used innovative communication measures to help drive consensus on a feasible solution that met the project's objectives. Once constructed, these improvements will help to create a more vibrant and safer downtown center—one that will benefit the community for generations to come.