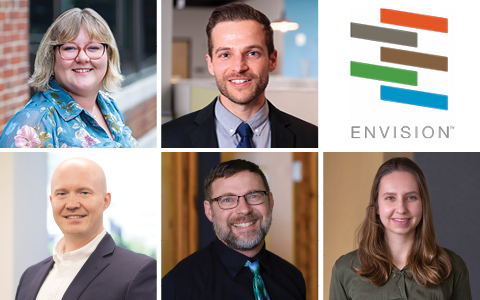 Sustainability is essential to the work we do, and VHB continues to take a holistic approach to address and integrate social, environmental, and economic issues through innovative solutions to our clients' needs—now and into the future.
One way we're accomplishing this goal is through our Envision Trainings, which equip VHBers to integrate sustainability into building sustainable, resilient, and equitable infrastructure.
Recently, we hosted a virtual Envision Training with a group of nine VHBers, facilitated by Lior Melnick, Transportation Analyst, and Sierra Le Pore, Senior Aviation Planner.
A Meeting Recap
The training consisted of two days of five-hour sessions, which kicked off with what Envision is and how the Institute for Sustainable Infrastructure (ISI) developed the system.
Lior and Sierra then provided a detailed look at the following topics:
The Envision Guidance Manual
Various Levels of Achievements for Envision Ratings
Five Categories to Applying Sustainable Solutions to Infrastructure Projects:

Quality of Life—this category focuses on assessing whether the project aligns with community goals.
Leadership—an important part of successful sustainability projects is to apply a new way of thinking about project development and delivery. Success in this area is attributed to early communication and collaboration.
Resource Allocation—considering resources is vital to build infrastructure and keep it functioning. This topic focuses on the quantity, source, and characteristics of resources and their impacts on overall sustainability.
Natural World—it's key to consider the natural world and its critical functions when building an infrastructure project. The way the project is located within these systems can cause unwanted or unintentional impacts.
Climate and Resilience—in this area, the goal is to minimize emissions that may contribute to climate change and other short-and-long-term risks and confirm infrastructure projects are resilient.

Applying Envision on VHB Projects
The group of nine also split into virtual breakout rooms for a hands-on workshop and discussion using specific examples.
The training concluded with a review of ways to apply for an Envision award and how to complete the exam to receive the Envision credential.
Congratulations to Our New Envision Certified Sustainability Professionals
Of the nine attendees, five have completed the certification exam and have received their credentials as an Envision Sustainability Professional:

More Envision Trainings to Come
The Envision framework is a key component for VHB projects and will help us continue to drive sustainability throughout our markets, services, and operations. We'll continue to host training sessions so that our team of internal certified professionals continues to grow.
Learn more about sustainability at VHB.