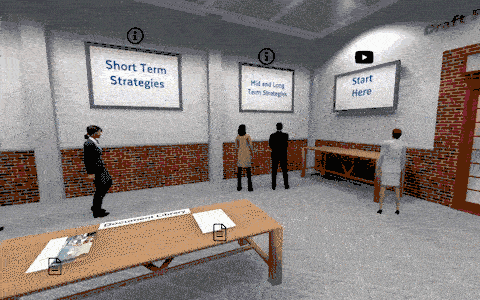 COVID-19 created many challenges, including the need to re-examine everyday resources used to keep business moving. Clients who rely on public hearings and community forums to advance projects turned to virtual meetings as an alternative means to connect with stakeholders and citizens, obtain public input, and progress decision-making. This approach has uncovered a silver lining: increased engagement from a diverse audience, especially participants who might not have been able to join an in-person public meeting pre-pandemic.
For participants unable to leave home due to childcare, transportation, or mobility issues, virtual environments create access. A virtual environment is often viewed as a safer place to share opinions and cast votes without fear of repercussions from those with different views. By leveraging technology and innovation, virtual meetings create a more accessible, inclusive, and equitable forum to discuss issues and advance initiatives.
Since March 2020, VHB has helped clients conduct more than 200 virtual meetings. In many cases, the level of participation and attendance rose to two or three times the levels seen at in-person meetings. VHB works with clients to tailor these experiences for the broadest audience and maximize opportunities to participate.
For one Long Island, New York county's Five-Year Consolidated Housing Plan, a virtual public meeting included live Spanish interpretation at the click of a button. Incorporation of real-time closed captioning, secondary languages, transcriptions, audio recordings, assistive listening systems, and qualified sign language assistance allows for more inclusive participation and engagement.
In another instance, where 75 percent of the community was using dial-up internet, VHB set up a call-in hotline, partnered with public access television to broadcast the meeting, and advertised pick up locations where participants could obtain physical copies of the agenda. This allowed us to engage a larger and more diverse audience, many of whom would not have been able to participate otherwise.
VHB's Virtual Meeting Rooms are another innovative tool that allows clients, consultants, and citizens to stay connected and share information. These rooms are customizable and allow 24/7 accessibility from almost any PC, tablet, or mobile device. Within the navigable environment, participants can review documents and presentations at their own pace, play back videos, take surveys, and even connect with board or council members – valuable facetime that previously might not have been available in-person.
While in-person meetings are starting to return and will always be important, virtual components are here to stay. Technology makes it possible to deliver and implement change. With the ability to meet anytime, anywhere, and with customizable access, attendees once limited by the logistics of having to attend in-person meetings can now participate at their own speed, convenience, and ability. When the barriers associated with in-person meetings are removed, there is opportunity for more diverse voices to be part of the conversation, and to create a more accessible, inclusive, and equitable forum that will help shape the built environment for the better.
Explore an example Virtual Meeting Room VHB developed for Orlando's Future-Ready City Master Plan.