Several years ago, the Virginia Department of Transportation (VDOT) recognized the pressing need to address growing traffic volumes along a 22.5-mile stretch of Interstate 66. This popular travel route had become a bottleneck for commuters, residents, and visitors alike, leading to significant congestion and delays during peak hours. To tackle these issues, VDOT launched a public-private partnership between VDOT, Department of Rail and Public Transportation (DRPT), and private partner, I-66 Express Mobility Partners (EMP), delivering $3.7 billion Transform 66 Outside the Beltway (Transform 66) project to improve traffic flow and increase capacity.
As a teaming partner to global information technology (IT) company, Indra, Ahmed Amer played a critical role as the Deputy Project Manager and Engineer-of-Record for the development of ITS, fiber optic communications, and tolling design package for the managed lanes system (MLS), as part of the Transform 66 project. Ahmed's leadership and oversight of the design process and plan development were instrumental in delivering successful project implementation. As Northern Virginia continues to grow, this project is aimed to change driver behavior, alleviate congestion, and improve travel for years to come. This is Ahmed's story.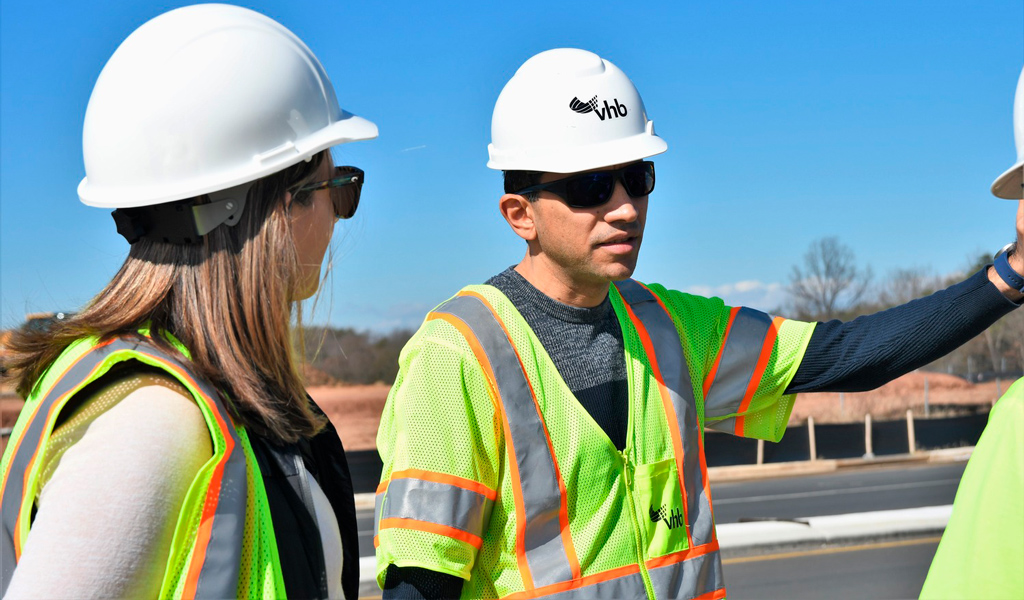 As a resident of Northern Virginia for 12 years, I know firsthand the struggle of heavy traffic congestion during rush hour. With more people moving to the region because of its proximity to our Nation's Capital, traffic on I-66 has become increasingly congested, causing headaches for commuters, and threatening economic activity. For many residents, the daily grind of navigating bumper-to-bumper traffic on one of the busiest thoroughfares in the region has become a major challenge. The solution to some may seem easy: widen the number of lanes to accommodate a larger volume of vehicles. However, widening is not always the best solution, especially along an already populated and dense corridor. Instead, a more innovative and comprehensive approach was needed—one that would change driver behavior and utilize advanced technologies.
Multimodal & Active Transportation Options
To effectively change driver behavior and alleviate traffic congestion in the region, a multimodal solution was necessary. The project had to provide a diverse range of transportation options and enhance connectivity along the corridor if we really wanted to see future change, and it does just that. Transform 66 features sustainable multimodal solutions, including new and improved bus services and transit routes, 11 miles of new bike and pedestrian trails, and new crossings to improve and expand bicycle and pedestrian routes.
These solutions are integrated with local trails and shared-use paths along I-66, creating a seamless network of alternative transportation options. Additionally, the project includes new and expanded park and ride lots, providing convenient access to the express lanes and more than 4,000 new park and ride spaces. These initiatives encourage locals to consider ride-sharing and other sustainable modes of transportation instead of driving solo in a vehicle.
Express lanes were also developed in response to the increasing traffic congestion and demand for improved transportation. The goal is to move people more reliably and efficiently and provide faster transportation to destinations.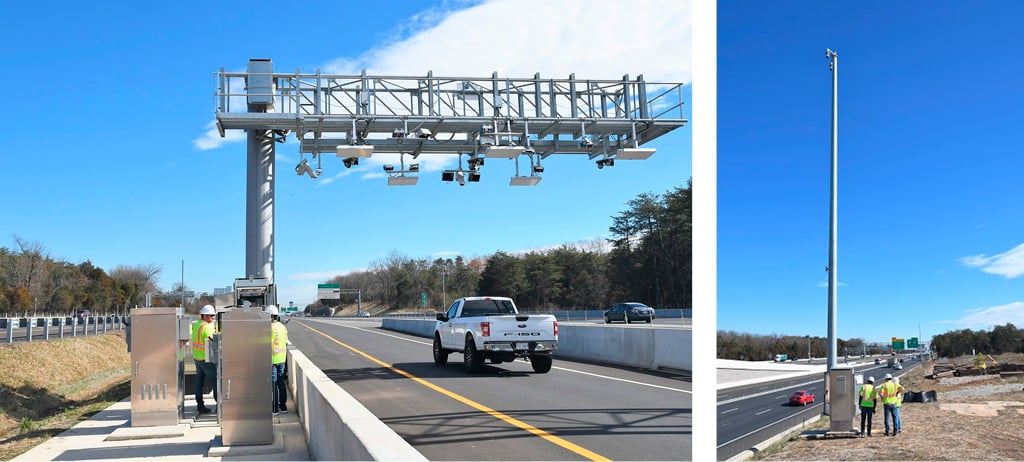 Dynamic Tolling Using Real-Time Data
As someone who frequently drives in Northern Virginia, being able to develop the behind the scenes ITS was a unique experience and something that was significant to me as an active user of these roadways. Traditional toll lanes in Northern Virginia operate on an hourly toll window, where toll rates apply and/or vary based on time of the day. However, the I-66 express lanes are taking a state-of-the-art approach by using what's called dynamic tolling, which constantly adjusts toll prices based on current traffic conditions. This confirms that the lanes remain free-flowing and minimize congestion. The tolls are collected electronically through E-ZPass or a pay-by-plate system and calculate the price based on real-time traffic data. As more vehicles enter the lanes, the price increases, allowing the express lanes to remain free flowing. The goal of dynamic tolling is to evenly distribute traffic between larger highways and smaller roads, offering a more efficient and effective way to manage traffic flow, reduce congestion, and provide a more reliable transportation experience for commuters. This is an innovative way to manage congestion while also promoting the use of alternative transportation options like the trail system, transit services, park and rides, and carpooling amongst commuters.

During the development of the I-66 express lanes, I had the opportunity to work with Indra, a well-known Spanish technology and consulting firm specializing in transportation and IT systems. As someone with a passion for pioneering transportation solutions, working alongside such a knowledgeable and innovative team was a dream come true. Together with my VHB colleagues Pete Clary, Director of Transportation Engineering; Nadia Boller, ITS/TTG Task Manager; and Ronald Hartman, ITS Senior Project Manager, we worked closely with Indra, attending numerous meetings and site visits to provide successful integration of hundreds of ITS devices, toll gantries, and controller cabinets along the corridor.
A Future-Focused Approach to Transportation Growth
The Transform 66 project includes several strategies that municipal and transportation leaders and planners can learn from to help them remain future-focused and provide more diverse travel choices to lessen congestion, especially in high demand urban areas that are continuing to experience growth. Strategies include:
Improve Public Transportation: The Metro DC region has numerous projects in development, such as Long Bridge and Crystal City Station improvements that, when complete, will provide more efficient and reliable options and contribute to the reduction of vehicles on the roadways.
Invest in Active Transportation options: Provide safe and connected trails, sidewalks, and bike lanes to promote walking and biking as a mode of transportation.
Support Transit-Oriented Development (TOD): TOD, or public transportation hubs, promote economic development through the use of public transportation because of the heightened connectivity and availability of amenities at transit stops.
Continue to invest in infrastructure: Roads, bridges, and other forms of infrastructure are what connect us. The support of integrated transportation infrastructure boosts economic prosperity and promotes a more positive quality of life.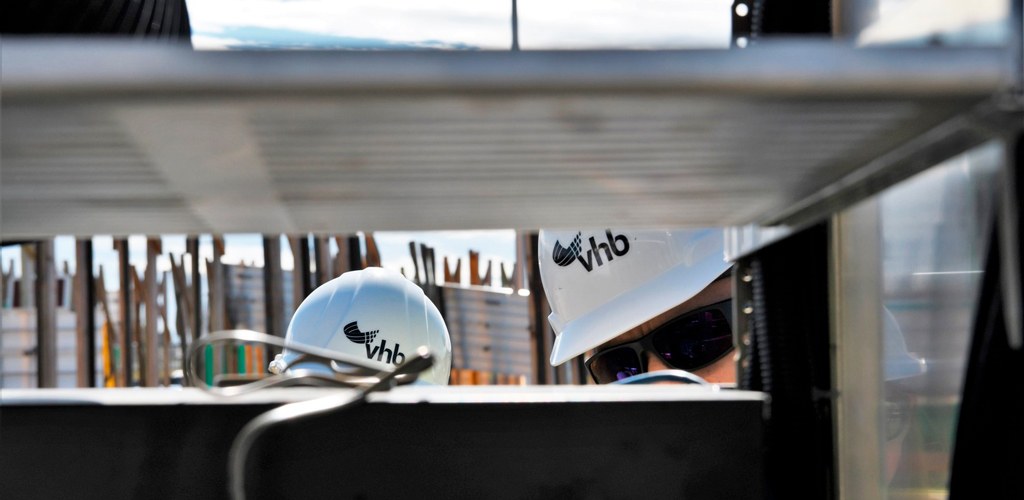 The Transform 66 project was necessary to address existing and future mobility needs of the corridor. As the region continues to grow, individuals now have an array of transportation possibilities available to them. Driver behavior will not change overnight, but the express lanes and multimodal improvements are proactive for the future to promote safety, connectivity, and efficiency for all. VDOT's project website states that this project is meant to get you to the moments that matter most and in time, and I think it will do just that.
Learn more about VHB's transportation planning and engineering services or reach out to me for more information by emailing me or connecting on LinkedIn.