Somerville's reawakening has been nearly 20 years in the making. Through years of keen and targeted outreach, the Massachusetts city has successfully courted numerous developers, retailers, tech giants, and life science companies, contributing to the city's growth and demand. One of Somerville's most noteworthy developments in the past decade is Boynton Yards—a 1.8-million-square-foot life science and innovation community located within one mile of Cambridge's Kendall Square and connected to Boston by the MBTA Green Line train. This mixed-use development will offer 1.3 million square feet of Class-A lab/office space, 450 apartments, an arts/community center, and more than two acres of public green space.
For the past five years, VHB has proudly worked side-by-side with the city, DLJ Real Estate Capital Partners and Leggat McCall Properties LLC, several architects, and numerous teaming partners to support the development of Boynton Yards. The VHB team has helped reposition the former industrial sites into vibrant mixed-use developments by permitting and designing state-of the art office and lab space to intrigue and build a local workforce, as well as designing new roadways to improve access for workers, residents, and guests. Below are some highlights of VHB's involvement in this transformative Somerville development.
101 South Street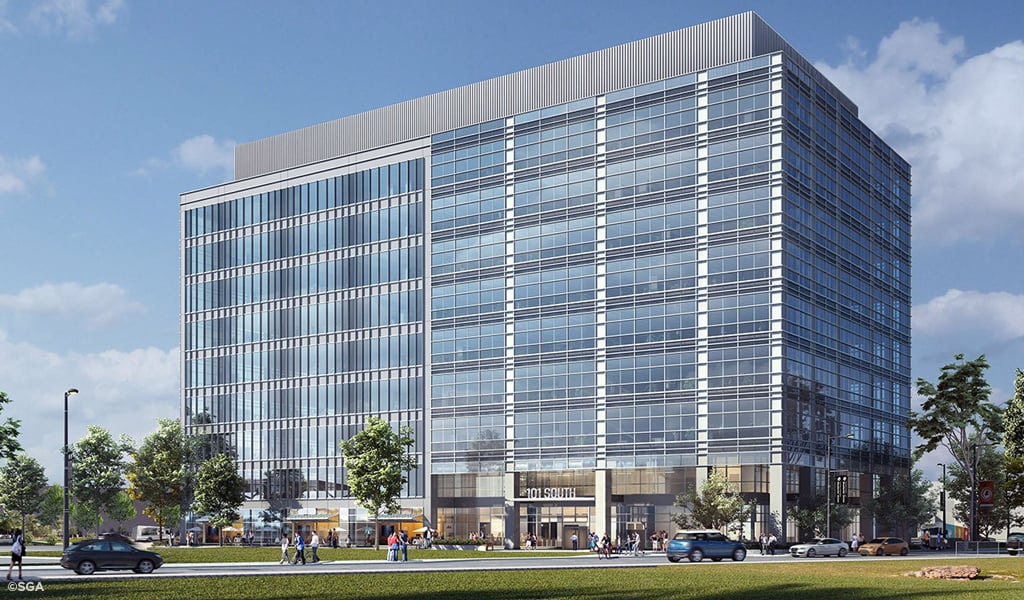 101 South Street is a fully leased, state-of-the-art, 290,000-square-foot Class-A speculative lab building that matches the quality of newly constructed buildings in Kendall Square. The building also includes four levels of underground parking and a first-floor retail and community art space. VHB provided civil/site engineering, transportation engineering, and utility infrastructure design.
As part of the project commitments to the City of Somerville, VHB led the design for the revitalization and complete reconstruction of Earle Street, including significant streetscape and utility infrastructure improvements. Additional project responsibilities included extensive city agency coordination, project management, and the design and preparation of site plans for permitting and construction. The project required review and approval through the City of Somerville Zoning Board of Appeals (Zoning Variances) and the City of Somerville Planning Board (Special Permit with Site Plan Review).
808 Windsor
808 Windsor is the second of four life-science buildings at Boynton Yards and will be completed in early 2024. The 11-story building will feature 306,000 square feet of advanced research labs. The building will also offer onsite experiences with amenities that include an active outdoor civic space, a food hall, and a location for activities, recreation, and entertainment. The new nearby Green Line Rail Extension (GLX), which VHB supported by providing planning, design, and environmental review services, now provides convenient connections to Kendall Square, Boston, and beyond. VHB provided site/civil and transportation planning services for this development, which is currently under construction.
Below is a list of additional ongoing projects at Boynton Yard's that VHB is proudly supporting.
VHB | Boynton Yards
Boynton Yards – Master Plan Special Permit
Building Three – 99 South Street
Phase 1B Utilities Enabling
Phase 2 Utilities Enabling
Thoroughfare One
561 Windsor Place
If you have questions about our involvement in this transformative development or would like to see how VHB can help move your development project forward, please contact Brian Fairbanks.