Representing both VHB and the ACEC Research Institute as Vice Chair, VHB President & CEO Mike Carragher recently presented at the FIDIC Global Infrastructure Conference—Building a Better Tomorrow, by Investing Today—held in Geneva, Switzerland, September 12-14. The annual conference brings together the world's premier engineers and infrastructure stakeholders to focus on how together, our industry can engineer a sustainable future in ways that benefit communities worldwide.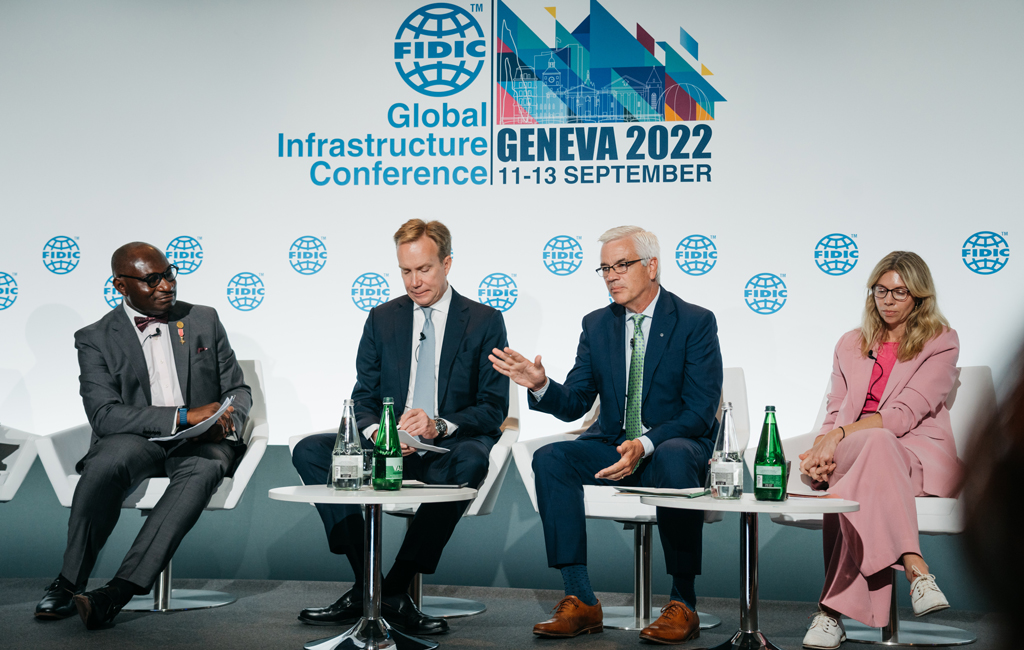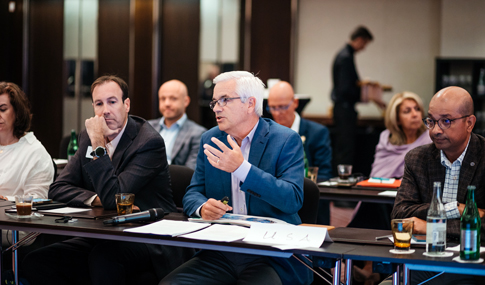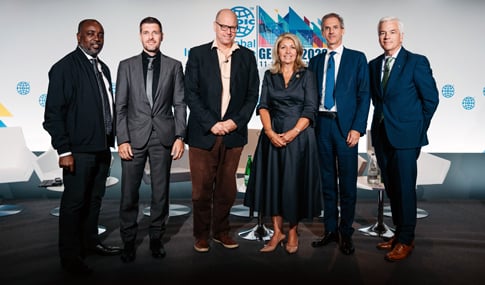 Mike delivered the keynote for the Environmental Social Governance panel—ESG: Creating social and community value and embracing a circular economy. Prior to kicking off the panel discussion, Mike encouraged participants to be agents of change in how we lead our companies; how we deliver projects; and how we strive to make our communities and our world a better place with the work we do. He also shared some of the important work VHB has done in recent years to build and deploy our Start Smart approach to advancing sustainability in our projects, as well as to define our ESG commitments and how they inform the way we lead and operate our firm.
The international panel of sustainability and circular economy experts reviewed the current ESG landscape, including procurement trends, and government and client drivers. After the session, attendees complimented VHB's robust Start Smart and ESG programs.
"This was a remarkable opportunity to share part of our ESG story on a global scale, demonstrate VHB's leadership, and most importantly, raise awareness and advocate for policies and programs that infuse a sustainability approach into our industry's projects, operations, and company cultures," said Mike. "I'm honored to have been invited to participate as a representative of our U.S. consulting industry."
In addition to Mike's participation on the ESG panel, he was invited to provide an update on the ACEC Research Institute's activities to the Directors and Secretaries of FIDIC Member Associations. Mike shared an overview of the Institute's landmark Engineering Industry Impact Series, a series of reports highlighting the size, scope and impact of the U.S. engineering and design services industry, as well as a forecast for the next five years. He also updated the group on the Institute's Advisory Board, assembled to help with long-term, future focused initiatives. Informed by the Advisory Board, the Institute has prioritized four research focus areas:
Sustainability and resiliency design as a foundation for design consideration
Remaking the case for investment in the built environment
Addressing industry transformation from data, technology, and emerging trends
Establishing cultural competence in engineering
Mike also served as a panelist at the conference Plenary session to share insights on global infrastructure needs and challenges. The Plenary panel was led by the President of the World Economic Forum and the discussion focused on the need for engineers to be more vocal in leading the conversation to advance resiliency and sustainability—especially as we confront today's climate crisis.
"We have a responsibility to be active leaders in conveying and addressing these issues," said Mike. "It was empowering to be part of the discussion."
FIDIC, the International Federation of Consulting Engineers, is the global representative body for national associations of consulting engineers and represents over one million engineering professionals and 40,000 firms in more than 100 countries worldwide.