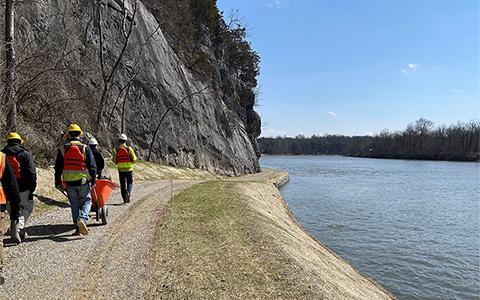 The Chesapeake and Ohio (C&O) Canal National Historical Park was selected for the 2023 Excellence in Historic Preservation and Sustainable Design award from the Maryland Historical Trust. The 0.9-mile section of towpath located between McMahons Mill (mile 88) and Lock 42 (mile 89) in Williamsport, Maryland, was experiencing flooding, weakening canal walls, washed-out sections, and unstable structures. VHB partnered with the National Park Service (NPS) to develop a sustainable solution for solving these challenges—taking a future-focused approach for long-term preservation.
The restored section of towpath and canal is part of a 184.5-mile trail network along the C&O Canal connecting Georgetown in Washington, DC, with Cumberland, Maryland. The historic towpath was utilized between 1828 and 1924 as the path for mules who walked alongside boats, towing them on the waterway to transport goods and people. Today, the historic path is a continuous corridor of activity with biking, walking, and hiking.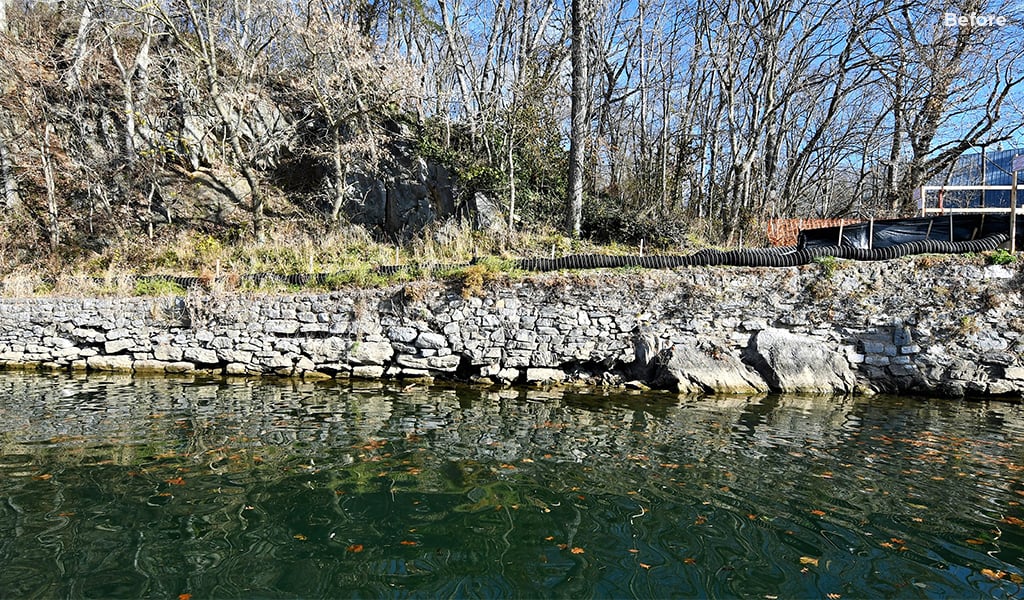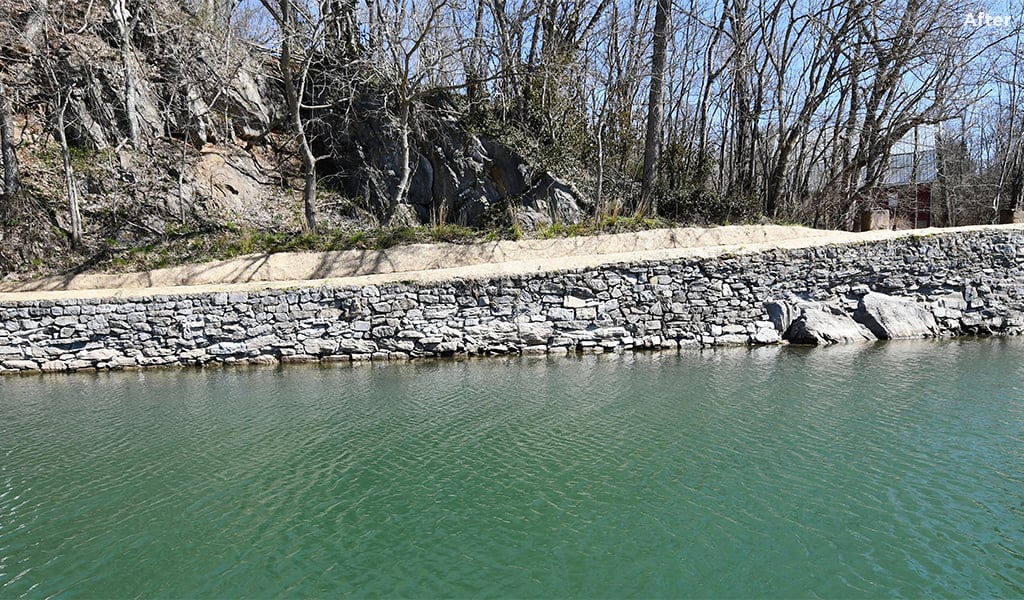 Kiewit via the National Park Service
VHB landscape architects designed the width and alignment of the towpath through this challenging section of trail. In partnership with SGH structural engineers, the team determined the elevation of the reconstructed walls and revetments to reduce minor flooding closures and provide a wider and safer trail surface for users. Reconstructing the historic stone wall armored the towpath from river debris, protection from recreational boating wake scouring, and erosion—creating a long-term sustainable solution and reducing maintenance.
"This recognition from the Maryland Historical Trust is evidence of a true collaborative approach from our project team," said Logan Yeingst, Project Manager. "The guidance and contributions from the NPS provided an understanding and appreciation of the canal and riverfront's history. By taking an innovative approach, we developed a solution to improve safety and enhance the visitor experience, preserving it for years to come."
The award, presented by the Board of Trustees of the Maryland Historical Trust, honored the project team for the significant achievement and commitment of preserving a historical site through cultural heritage, educational opportunities, and enhanced tourism.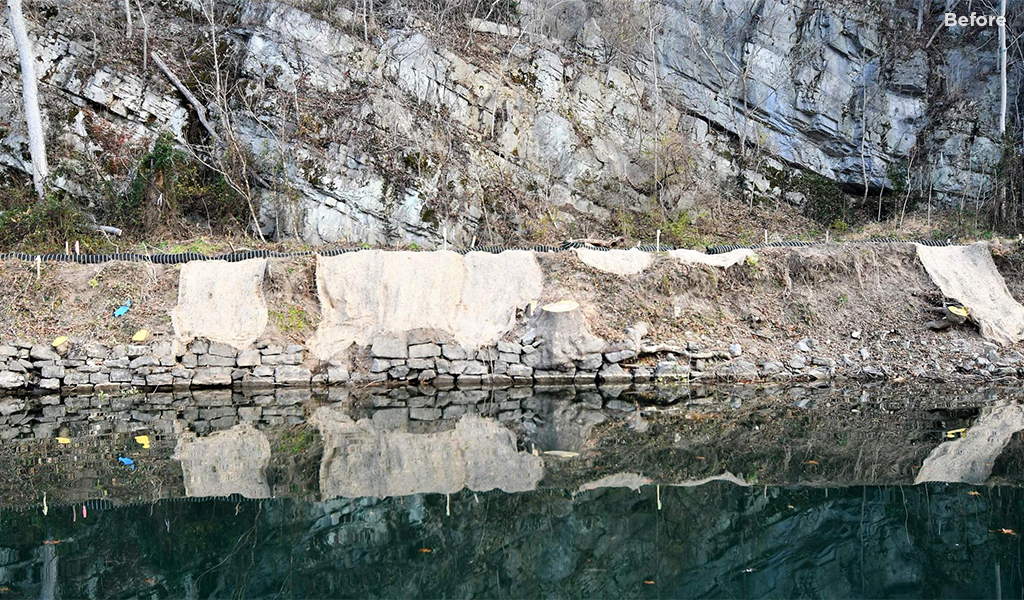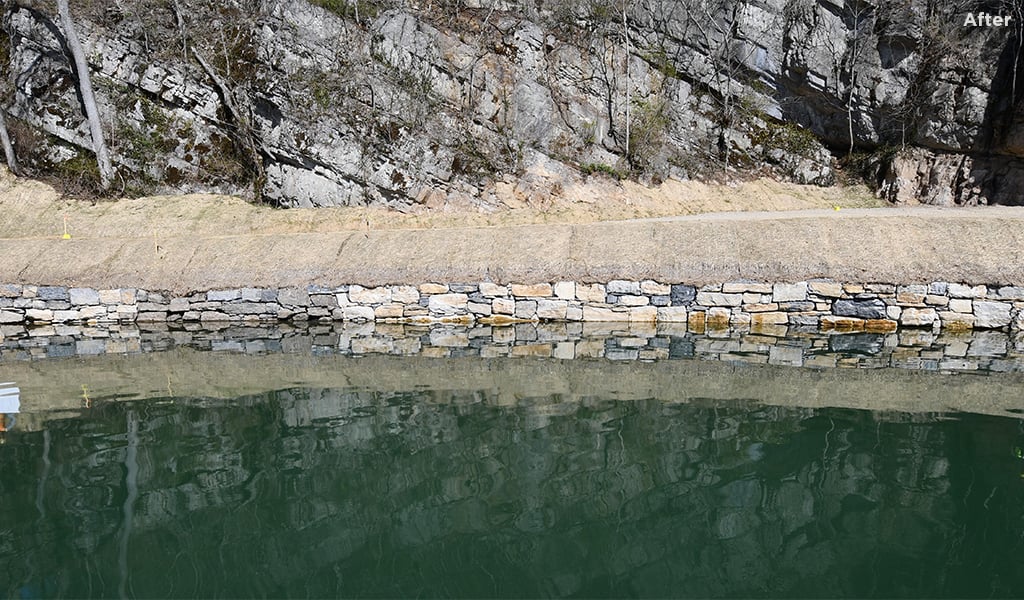 Kiewit via the National Park Service
VHB landscape architects also support the NPS at C&O Canal National Historical Park to enhance bicycle accessibility and safety at the Goodloe E. Byron Memorial Pedestrian Walkway, which includes a spiral staircase, making it challenging for bicyclists to connect Harpers Ferry to the C&O Canal Towpath via the Byron Bridge pedestrian walkway. VHB developed and evaluated four alternatives during the Schematic Design phase and worked with the Park to develop a preferred alternative. VHB is currently under contract with the NPS for design development, construction documents, and permitting for construction of the replacement structure to improve usability and connectivity.
Learn more about our experience with the National Park Service.