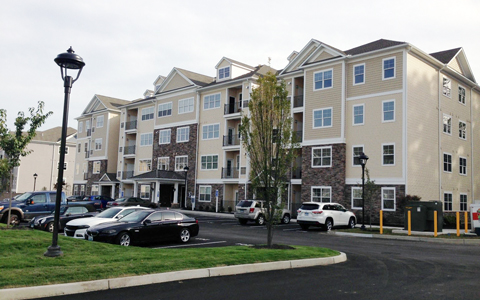 Connecticut's demand for housing has never been greater, much of which is being driven by cost-of-living migration from New York City or Boston. While demand is radically increasing, housing supply has fallen dramatically since the pandemic. Listings are at an all-time low and supply chain issues are creating a shortage of construction materials, causing a new-home construction supply gap.
VHB is partnering with several developer clients throughout Connecticut to help close this gap.
Market Rate | New Construction
With the demand for accessible, amenity-rich housing at an all-time high, VHB is helping move forward several multi-family housing projects throughout the state to help alleviate market pressure. Currently, we are providing conceptual design services for a variety a of multi-family housing developers in West Hartford—a red hot housing market with home prices up more than four percent in comparison to last year.
In recent years, VHB has provided integrated services in support of several new market-rate residential developments, including: The Ridge at Talcott Mountain, a mixed-use development in Simsbury, featuring 280 residential units, retail and office space; The Mark, a six building, 228-unit residential development in Shelton; Trail Run, a 300-unit apartment complex in Vernon that features a clubhouse and 30,000 square-feet of retail and restaurant space and; Quaker Green, an amenity-rich residential development that now offers West Hartford's hot housing market 56 luxury apartments.
Affordable Housing | Redevelopment Opportunities
In addition to new construction opportunities, VHB is collaborating with developers on creative speed to market concepts. We're studying redevelopment opportunities, such as mill revitalizations or hotel conversions, which can help close the housing market gap at a faster rate than new construction. Furthermore, these repositionings are prime opportunities to support Connecticut's renewed focus on affordable housing. Redevelopments are often less expensive than new construction and with development costs being lower, developers can offer units at a more affordable rate—relieving both financial and market pressure.
Our team has extensive experience supporting redevelopment initiatives, including a long-standing relationship supporting WinnCompanies, the nation's sixth largest property manager and leader in affordable housing. In Waterbury, VHB provided survey, permitting, and civil services in support of WinnCompanies' Schoolhouse Apartments redevelopment, which offers affordable housing for adults 62 or older and younger persons with disabilities. In Bristol, VHB provided integrated services in support of WinnCompanies' Huntington Woods rehabilitation project. The newly redeveloped mixed-income community offers 280-unit 1-, 2-, and 3-bedroom apartment homes.
To learn more about VHB's multi-family market experience, or to learn more about our Wethersfield Office, please contact Paul Vitaliano, PE, Director of Land Development.