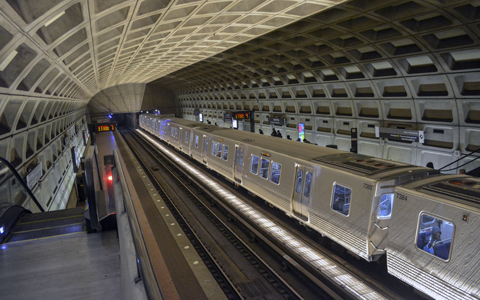 The Arlington County Board has approved the $146M Washington Metropolitan Area Transit Authority (WMATA) Crystal City Metrorail Station East Entrance for final design and construction, a critical addition to the station that will serve as a second entryway. Situated amid National Landing, a bustling area of growth and redevelopment, this new entrance will meet a need for increased capacity and enhanced connectivity. VHB is program management lead, overseeing all planning, design, and environmental compliance, as a partner to developer, JBG Smith, and contractor, Clark Construction.
The east entrance of the Crystal City Metrorail Station is not only a new addition but will contribute to the development of a vibrant multimodal hub that will connect commuters to a range of transportation options. As the location for Amazon's HQ2, National Landing is a vibrant community with a plethora of amenities, including urban parks, residential neighborhoods, industrial and institutional campuses, and mixed-use conveniences. The east entrance of the station will heighten connectivity to the greater National Capital Region, shorten commute times, relieve congestion, and enhance accessibility needs.
"This project is a special one," said Meghan Powell, VHB Mid-Atlantic Director of Transit & Rail. "Even before the pandemic, this station was filled with activity during peak hours, a testament to its importance as a vital transportation link. Its expansion will support regional connectivity, linking to numerous additional multimodal projects that are shaping up in the area."
Thirty percent design for the new entrance was complete in spring 2023 as part of a Public-Private Education-Facilities and Infrastructure Act (PPEA) proposal led by JBG Smith in 2019. The design includes elevator upgrades, Americans with Disabilities Act (ADA) accessibility improvements, enhanced emergency access, and a new underground passageway. VHB's role included coordinating completion of the 30 percent design with subconsultant designers, Arlington County and WMATA.
The Crystal City Metrorail Station is adjacent to numerous multimodal options, including the Potomac Yard Metrorail Station, Virginia Railway Express (VRE) Commuter Rail, the Mount Vernon Trail, numerous local and commuter bus routes, and the future Crystal City to Ronald Reagan Washington National Airport (CC2DCA) pedestrian bridge.
To learn more about our work on this project, contact Mark Colgan, Mid-Atlantic Transportation Market Leader, or connect with him on LinkedIn.