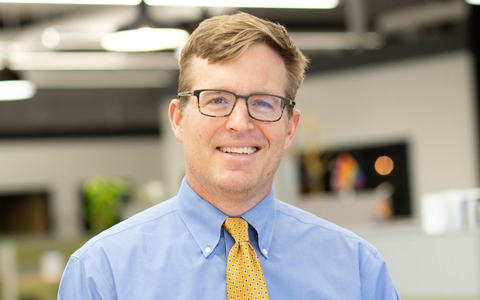 Dan is an energy market leader and transmission practice leader at VHB. He leads teams in project delivery and client-focused efforts to expand VHB's services. He's a planner with experience in permitting and siting for large energy infrastructure projects, as well as with experience in natural sciences, the National Environmental Policy Act (NEPA), and GIS.
For nearly 20 years, Dan has led projects in power delivery and electric transmission; midstream oil and gas pipelines; distributed generation and microgrids; large-scale generation in offshore and onshore wind, solar, gas, and hydropower; and associated energy infrastructure projects nationwide. We spoke with Dan for insight about the trends he's seeing in the energy market and navigating challenges such as quicker permitting processes.
Q: How did you get started in your field?
Dan: I started as a field biologist for the U.S. Forest Service in Oregon after graduating from college with the dream job of snorkeling mountain headwater streams for endangered trout populations. That was the start of my natural science career, but when I began in the consulting field, I split my time between being a GIS analyst and a biologist permitting projects. I also authored NEPA chapters for Environmental Impact Statements (EISs) on complex energy projects. When I started in consulting more than 20 years ago my focus turned to energy projects and it's continually grown and evolved since then.
Q: For those that may be unfamiliar with the complex energy projects you are actively working on; can you provide a summary?
Dan: The biggest project I'm working on right now is a proposed 350-mile buried electric transmission line co-located in a railroad right-of-way. Additionally, there are several siting and permitting projects in Massachusetts and throughout New England that I'm working on with multiple energy clients. One is a series of buried electric cable projects around Boston and there is also an array of solar and battery storage projects in Massachusetts and New York.
Q: Renewable energy is top-of-mind for VHB and for many of our clients. Can you provide insight on any emerging trends that you're seeing in the energy market?
Dan: A key trend is the drive to develop renewable energy generation projects as older coal and gas generating units retire. This trend is driven both by market prices and by government policy to decarbonize the power sector and the economy overall. There's also recognition that electric transmission is a bottleneck to delivering renewable energy to market, so there's focus on policy and funding to build out our transmission infrastructure to unlock some of the stranded renewables.
Throughout New England, we're helping utilities upgrade transmission lines in anticipation of more renewable energy projects coming online. We're also seeing a trend of cross-pollination across several of our key markets to advance renewable energy efforts. Within both our transportation and planning groups there's been an increased focus on planning electric vehicle deployment, and within our real estate market there's an uptick in port redevelopment to support the Offshore Wind industry. A perfect example is in Somerset, MA, at the site of the former Brayton Point Power Plant, once the largest coal-fired plant in New England. VHB is working with Prysmian Group to reposition the site and redevelop it for a new state-of-the-art cable manufacturing plant. The development will allow for the design, manufacturing, and delivery of a submarine transmission cable to support offshore wind projects in the U.S.
Q: What are a few of the biggest challenges associated with clean energy?
Dan: Two of the biggest challenges associated with integration of renewables are electrical planning and project permitting. The electrical planning challenges include the studies required to advance projects by determining that the electrical grid can support them. In several areas of the country, the waiting line, or interconnection queue, to be studied is up to four years long.
VHB is very familiar with the siting and permitting challenge and need to address "Not-In-My-Backyard" (NIMBY) opposition to long regulatory review, and even moratoriums in some towns on solar development. A proactive stakeholder engagement effort can help, but local opposition to projects remains one of the largest execution risks to clean energy development.
States in New England have lofty energy goals and, when policy meets reality in these challenges, VHB can help clients minimize risk and get projects built.
Q: Because of the Infrastructure Investment and Jobs Act, communities are rapidly changing. Can you tell us how a quicker permitting process can be beneficial?
Dan: A quicker permitting process is essential to help meet climate goals, especially for transmission line projects, which can take five to 10 years to get through permitting. Many state climate goals start in 2030, so the need for expedited permitting is quite timely. If permitting can be expedited, renewable energy projects can get built sooner, deliver power more quickly and, ultimately, reduce our carbon emissions and improve quality of life.
Q: You recently presented to the Department of Energy about facilitating and going through the permitting process. Can you talk about that a bit more?
Dan: As part of my NEPA experience, I managed several large, cross-border electric transmission projects between Canada and the U.S. The U.S. Department of Energy (DOE) was the lead regulatory agency on those projects, and I helped to write the EISs for them. One of those projects, which included a transmission line, is a case study of how early stakeholder engagement can expedite NEPA.
The DOE established a new office last year, the Grid Deployment Office (GDO), which has multiple mandates, but a big one is to expedite permitting for large, inter-regional transmission line projects. DOE asked me to brief their team at GDO about my project experience, as well as our current work at VHB in facilitation and permitting for energy projects. They were interested in what lessons were learned so they may be able to apply them to their new projects and initiatives throughout the GDO. Collectively, the groups we talked to within the GDO have $18B in funding they need to deploy to help accelerate the energy transition, integrate renewables more quickly, and help achieve climate goals. The political will is there, the capital investments are there, but several challenges remain that VHB is well-positioned to tackle, and we're looking forward to the opportunity to do just that.
Connect with Dan directly or on LinkedIn for more information on the permitting process.
Learn how VHB is applying comprehensive, integrated solutions to the development of renewable energy.