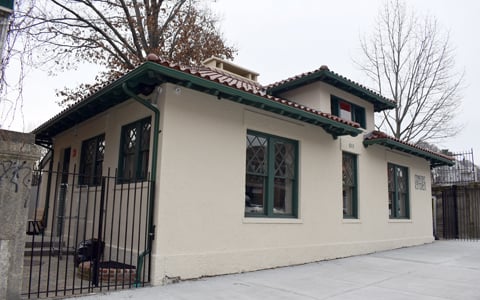 The Boston Preservation Alliance honored VHB's recent project Upham's Corner Comfort Kitchen as a 2023 Award Winner. The project also recently received Preservation Massachusetts' highest honor, the Tsongas Award. VHB has had the pleasure of working on this Historic Boston, Inc., tax credit project since 2017. Prior to permanently closing in 1977, the building now occupied by Upham's Corner Comfort Kitchen was originally constructed in 1912 as a public restroom to serve streetcar passengers along Dorchester's Columbia Road. During its 30-plus-year hiatus, the single-story stucco and clay tile Mission Revival-style building went unmaintained and quickly fell into a state of desolation…until 2014 when the City of Boston requested proposals for the building's reuse. Historic Boston, Inc., Biplaw Rai, and other partners made plans to utilize the building's main floor, a less than 1,000-square-foot space, with the development of a new restaurant called Comfort Kitchen.
VHB's Senior Preservation Planner Nicole Benjamin-Ma shares her experience working on this remarkable project: "We work on a lot of rehabilitation projects at old mills and schools. While each project is unique, we can tap into our experience for guidance. But a public bathroom? There's no template for that." As the recipient of historic tax credits, the project was required to adhere to a set of design principles that made certain renovations were historically appropriate while allowing the building to evolve for its next chapter. VHB guided the design team through numerous decisions regarding material repair, replacement features, floor plan, updated utilities, and site layout. Additionally, VHB provided coordination services between the developer, owners, architects, contractor, and state and local agencies, providing short-term and long-term solutions when unexpected issues were uncovered during construction.
"The Comfort Kitchen, and the revitalization of Upham's Corner at large, are great examples of 'placekeeping,'" said Nicole. "That is, keeping the existing community and culture intact while adapting the environment to meet its current and future needs. Creative reuse of existing buildings is an important part of this. It's amazing this little jewel of a building wasn't torn down. It's even more amazing that it is now a destination for international food tourists."
Comfort Kitchen is a Black-, immigrant-, and woman-owned business enterprise that now proudly functions as a cafe serving up global comfort food inspired by the African diaspora. VHB looks forward to seeing Comfort Kitchen flourish and serve its community in Upham's Corner.
Learn more about this unique new restaurant and get a taste of their delicious menu by visiting Comfort Kitchen Boston.