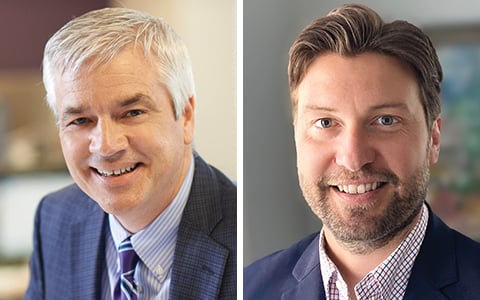 In early October, the Environmental Financial Consulting Group (EFCG) virtually hosted its annual legacy CEO Conference. The event unites executive leaders from across the AEC industry to discuss challenges and share insights. This year, VHB President and CEO Mike Carragher, along with VHB Sustainability Practice Leader Ryan Prime, served as panelists on two important discussions.

As part of the panel on Diversity, Equity, and Inclusion: Beyond Doing Well, Doing Good Mike Carragher shared insights related to three primary ways to create a more diverse, equitable, and inclusive future—within a firm, across the industry, and beyond. During this session, panelists examined the meaning of contributions to build a more inclusive tomorrow and shared actions and steps they are taking to get there.
Ryan Prime participated in the Delivering a More Sustainable Future panel, joining top minds across the industry to share ways to enable, integrate, and prioritize more sustainable work. With the societal focus ever shifting towards the role sustainability plays for our future, this session focused on the importance of developing and implementing an action—and how leadership can help drive those initiatives.
Understanding the state of the industry, especially during times of crisis, is important to help uncover trends and plan for the future. Panelists and keynote speakers draw from their experience to discuss complex issues and explore potential solutions.