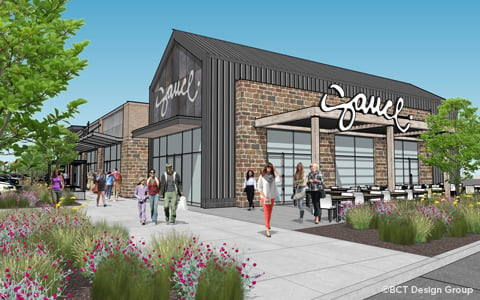 Construction officially kicked off this fall for Embrey Mill's latest development—a commercial center, called Town Center, to include retail and restaurants approximately one mile from Interstate 95. With only 40 miles between Embrey Mill and Washington, DC, this suburb in Stafford County is expanding to accommodate residential growth and to provide a destination for travelers along Interstate 95. VHB is working with BM Smith to provide integrated services for Town Center that include civil design, traffic engineering, landscape architecture, and planning.
With a plethora of amenities offered to residents, Embrey Mill's master-planned suburban community includes parks and playgrounds, community garden, pool, fitness center, nature trail system, dog parks, and more. Anchored by Publix supermarket, the new Town Center development includes plans for a shopping center with retail, dining, and vehicle parking. Future development includes trails and open spaces to connect residents and Embrey Mill Park.
"Embrey Mill's Town Center is an example of the new type of trend we are seeing with commercial development," said John Carty, VHB's Land Development Manager. "Not only does it support the neighboring suburban community by creating a destination for people within this high growth area, but the tenants it's attracting are getting creative in the type of experience they offer customers. This retail center also incorporates outdoor seating options, mobile and pickup ordering options, and contactless conveniences, which are qualities consumers have come to count on since the beginning of the pandemic."
Embrey Mill's 831-acre community development currently includes more than 1,800 homes and is part of one of the fastest growing and highest-income counties in America. As part of the Northern Virginia region, Stafford County is connected to Washington, DC, by two commuter Virginia Railway Express (VRE) stations and two Amtrak stations, and is conveniently located just off Interstate 95. With the recent progress on the expansion of Long Bridge, more rail options and an increase in capacity will become available in the future for the community of commuters traveling to the metro DC area.
To learn more about our experience partnering with developers and tenants to create some of the most exciting retail in the country, visit VHB's Retail page.