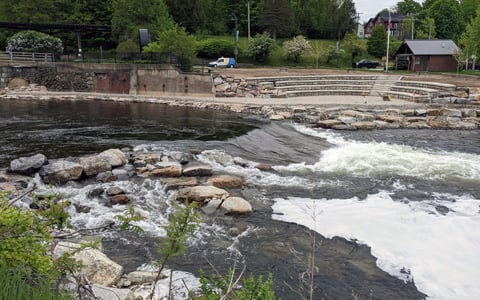 With an ambitious master plan anchored by an in-river whitewater park with an adjacent 13-acre land-based park and a 21-acre conservation area, the City of Franklin, NH, envisioned a rebrand of their city around outdoor recreation. Recently, Marty Parichand, founder and director of Mill City Park, was recognized as an ENR Top 25 Newsmaker.
VHB is working closely with Marty, the city, and Colorado-based design firm Recreation Engineering and Planning (REP) to help modify a stretch of Class III and IV rapids with engineered features, creating new and enhanced year-round kayaking and river surfing opportunities. The project team is navigating the complexities of designing around historic ruins. This unique community revitalization project will transform 1,600 feet of the Winnipesaukee River into the Northeast's first whitewater park.
Read more about this project in Engineering News-Record's Top 25 Newsmakers feature.