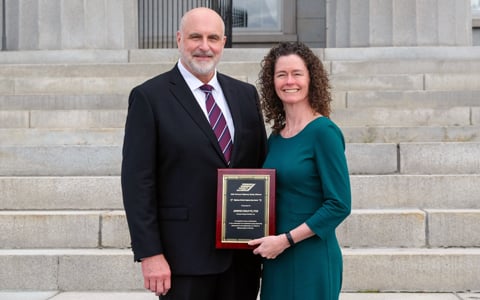 Jenn Conley, PE, PTOE, VHB's Vermont Director of Transportation Systems, proudly took home a 2023 Highway Safety Award presented by the Vermont Highway Safety Alliance (VHSA). VHSA, Vermont's Agency of Transportation (VTrans), and the State Highway Safety Office saluted Jenn and other highway safety professionals at an award ceremony on October 19 for their outstanding endeavors to elevate safety for all who use Vermont's roadways.
Jenn's tenure as VTrans' go-to Project Manager for statewide safety efforts began in 2020 when VHB helped coalesce best practices from within the Agency and other DOTs nationwide into a practical and proven-in-the-field work zone safety policy. Continuing this fruitful partnership, VTrans has since relied on the VHB project team under Jenn's leadership for knowledge and staffing resources to support all of its key transportation safety initiatives.
"With her collaborative, team-first spirit and constant attention to connecting people with each other and with the right information, Jenn personifies the trusted consultant role that VHB strives to provide for VTrans and all of our clients," said VHB's Vermont Managing Director, Dave Saladino, PE. "She has thoroughly proven herself as a worthy candidate for this award and we all applaud her for this honor."
Her team's ongoing management of the Highway Safety Improvement Program (HSIP) has been their most complex and far-reaching VTrans safety project to date. They drove the development of a data-informed approach to identifying crash-contributing factors and high-risk locations on the roadway network to prioritize VTrans' safety investments. Jenn also helped VTrans initiate a local HSIP grant program to address safety on rural roads where the need is paramount.
"Our team has put a lot of thought and effort into the HSIP program," Jenn said. "We're looking at transportation safety more systemically and evaluating which countermeasures are most effective to really move the needle on safety for everyone on Vermont's roads. I'm so honored by this award that recognizes the VHB team's important work."
An accomplished engineer, Jenn has contributed her knowledge across the spectrum of transportation projects in Vermont and beyond for more than 30 years. Jenn's governing principle of exceptional communication in successfully guiding multidisciplinary teams to complete critical and complex safety deliverables for VTrans contributed to her winning this prized nomination.
Jenn attended the award ceremony at the Vermont State Capitol with fellow VHBer and Transportation Designer Evan Haugh.
Find out more about VHB's safety practice dedicated to creating safer transportation systems.