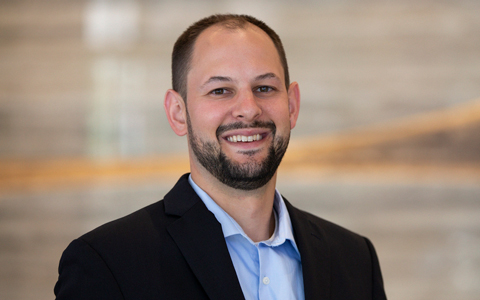 VHB's Josh Bendyk, PE, Director of Rail Operations, was recognized as one of Mass Transit Magazine's 40 Under 40 Class of 2022 award honorees. When Josh began his career at VHB 16 years ago as a co-op, his manager Terry Byrne inspired him to take an interest in railroad operations and signals—a topic not covered in his university's transportation classes. The daily challenges and seemingly infinite new problems to solve attracted Josh to this niche in the transportation engineering industry. Fast forward to 2022 and Josh is now leading a team of passionate Transit & Rail professionals, helping solve challenges and deliver high-profile projects for noteworthy clients including Amtrak and Massachusetts Bay Transportation Authority (MBTA).
Josh has helped build and lead VHB's Transit & Rail Practice Group from two members to a successful team of eight. Josh supports the development and expansion of the group on a daily basis, continually sharing his service planning, train simulation, and signal block and aspect design skills with his team.
He says, "From the incredibly talented team we've formed, to the projects we've worked on, and to the client relationships that we've built and to whom we've provided solutions for—it's extremely rewarding to look back to where we started and to see where we are now."
Josh is a leader in rail and transit operations assessment, rail operations planning, and railroad engineering, while executing integrated and multi-disciplinary projects. He routinely partners with rail and transit agencies such as NJ Transit, Metro-North Railroad, Amtrak, MBTA, and Massachusetts Department of Transportation (MassDOT) to model some of the most complex projects along the East Coast, including the South Station Expansion in Boston, Penn Station Access in New York, and the Long Bridge Project in Washington, D.C.
As an operations leader, he has been cross-trained in signal engineering with extensive knowledge in signal aspects and speed commands, control lines, and safe braking and capacity calculations. Some of his recent projects include:
MassDOT/MBTA South Coast Rail Phase 1 Final Design Project to improve public transportation between Boston and New Bedford/Fall River. Josh led the final design of the signal blocks and control lines across 38 miles, the analysis to develop the new service operating plan, and verified the suitability of existing and proposed infrastructure to support the new service extension.
MBTA Red Line and Orange Line Signal Systems Upgrades Design Build Project to renew the Red and Orange Line track circuits, and to relay control logic and associated control room equipment. Josh is leading the design of revised signal blocks and control lines that incorporate new speed commands, performing signal block and control line design, safe braking calculations, capacity calculations, and full simulation modeling of the existing and proposed systems.
Mass Transit Magazine is exclusively dedicated to public transportation by producing first-hand, in-depth profiles of transit agencies, transit operations, and transit systems managers and management. The 40 individuals were selected for their contributions to the industry and who have shown a capacity for innovation, demonstrated leadership, and a commitment to making an impact in transit.
Josh will be attending a celebration recognizing the 2022 honorees in Indianapolis, Indiana, on October 19. Congratulations to Josh and all the recipients of this prestigious award!