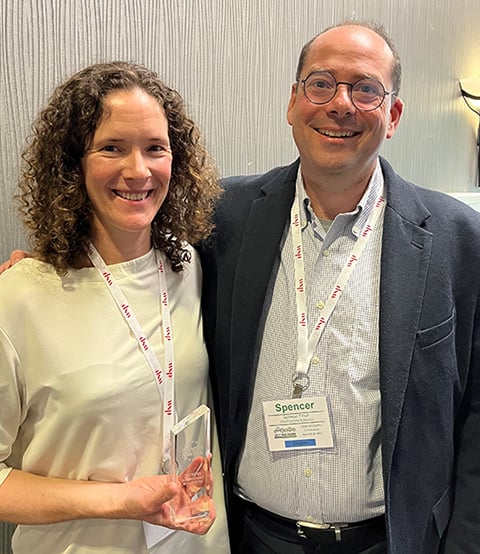 Lauren Blackburn, Senior Project Manager at VHB, was named the inaugural North Carolina Pedestrian and Bicycle Professional of the Year for Private Sector by the North Carolina Chapter of the Association of Pedestrian and Bicycle Professionals (APBP). The award was presented at the North Carolina Association of the Metropolitan Planning Organization's (NCAMPO) 2023 Annual Conference in Greenville, North Carolina, which gathers hundreds of transportation professionals for learning, networking, and sharing insights. This new recognition honors bicycle and pedestrian professionals in North Carolina—one each from the private and public sectors—for their contributions to the profession over the last year.
"I am delighted that Lauren is being recognized with this award," said Kim Eccles, Transportation Service Lead in Raleigh. "It is a testament to her hard work and dedication to the advancement of safe alternatives for bicyclists and pedestrians. Lauren goes above and beyond for our clients and communities."
As a member of the VHB Raleigh, North Carolina, office Lauren actively partners with the FHWA, state DOTs, and local governments in the region to create safer transportation systems for all road users, including comprehensive safety plans and audits, data collection and analysis, and grant assistance.