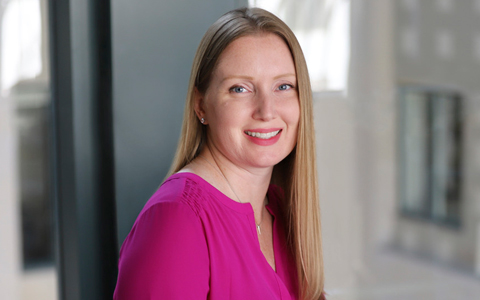 VHB welcomes Meghan Powell as Director of Transit and Rail for the Mid-Atlantic region. In this role, Meghan will carve a path forward for VHB's Transit and Rail service line by strategically leading the development and implementation of its growth strategy. Meghan's appointment comes at a time of rapid development across the Mid-Atlantic and an increase of investments in major transit and rail projects. Her leadership will help VHB support clients and critical projects that contribute to a cohesive, equitable, and connected transportation network.
Prior to joining VHB, Meghan was the Rail and Transit Mid-Atlantic Area Manager for a global infrastructure engineering firm where she managed interdisciplinary design teams, led business development practices, and oversaw the financial performance of projects and annual service contracts ranging from $5 million to more than $75 million. With more than two decades of experience, Meghan has worked with agencies across the east coast—Maryland Transit Administration (MTA), Washington Metropolitan Area Transit Authority (WMATA), Amtrak, Florida Department of Transportation (FDOT), Metropolitan Atlanta Rapid Transit Authority (MARTA), Palmetto Railways, District Department of Transportation (DDOT), Fairfax County, and the Virginia Department of Rail and Public Transit (DRPT)—to provide transportation planning and design for rail and transit projects in all phases of project development.
"As our project portfolio continues to expand, the addition of Meghan to our leadership team is another opportunity to provide value to our clients," said Mark Colgan, Mid-Atlantic's Transportation Market Leader. "Meghan's perspective and knowledge gained from working on large rail and transit projects for more than two decades, in addition to her industry partner relationships, will allow us to provide more efficient service as we work to deliver equitable, safe, and reliable transit and rail solutions across our region."
With hands-on transit and rail experience, including Program Manager for the WMATA A/E General Planning Services contract and Task Manager for the WMATA Facilities General A/E Consultant contract, Meghan has managed project teams of more than 50 people across multiple disciplines to deliver critical stakeholder and client coordination that resulted in increased capacity and improved reliability of transit service.
Meghan is a graduate of the University of Maryland where she earned her Master of Community Planning in Urban Planning with a concentration in Transportation Planning, and a Bachelor of Science in Civil Engineering. She is a licensed Professional Engineer in the state of Maryland and is actively involved in ACEC Metropolitan Washington and WTS Washington, DC Chapter.
For more information about VHB's transit and rail capabilities and how we can assist you on your next project, visit the transit page on our website, or connect with Meghan through email or LinkedIn.