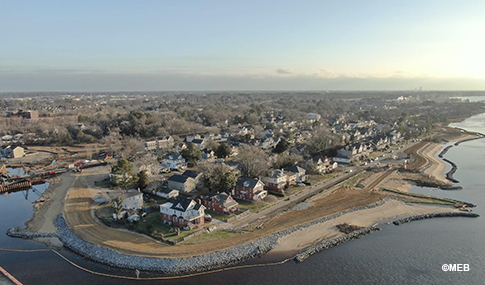 The City of Norfolk's Ohio Creek Watershed project reached a recent construction milestone as 2,000 linear feet of shoreline stabilization nears completion. Landscape plantings, to be finalized in the Spring, is the last remaining detail for completing the living shoreline phase of the project. As one of the largest populations at risk for sea level rise in the United States, this strategic resiliency project will transform the Chesterfield Heights Historic District and Grandy Village neighborhoods that frequently faced coastal flooding due to sea level rise and major rainfall events. This extensive living shoreline will offset necessary encroachments through the creation of more than four acres of tidal marsh.
The Ohio Creek Watershed project began in 2017 when the City of Norfolk received a $112 million resiliency grant through HUD's National Disaster Resilience Competition (NDRC). The first step in the project included an extensive community involvement process to make certain that residents from both the Chesterfield Heights Historic District and Grandy Village neighborhoods were heard and involved in the project progress moving forward. This process not only revealed the urgency to address major flooding concerns, but the need to connect communities, deconcentrate poverty, and strengthen neighborhoods. The community's local businesses and workforce faced many setbacks, and lack of neighborhood amenities and public spaces prevented community connection. In addition, the eight-lane interstate highway, I-264, that separates these neighborhoods from the remainder of the City, including the light rail station, made it challenging for residents to access safely.
The design team worked with the City of Norfolk to address feedback from the community and support the City's Resiliency Strategy. These efforts include raising roadways to make them operational during heavy rainfall events, replacing old infrastructure to hold more rainfall, and designing multi-use trails and athletic fields to create a sense of community. Elements such as lighting, educational signage, and sidewalk improvements were also incorporated throughout the project to improve connectivity. VHB developed the NEPA compliance work, which was the first Environmental Impact Statement required by HUD in Virginia. As the environmental consultant, VHB also designed coastal defense strategies, including earthen berms, tide gates, raised roads, living shorelines, and floodwalls. Additional teaming partners included the Virginia Department of Housing and Community Development (DHCD), Arcadis, Elizabeth River Project, Waggoneer & Ball, and SCAPE.
"The Ohio Creek Watershed Project serves as a successful model of resiliency for any coastal community facing similar challenges of sea level rise," said Neville Reynolds, Environmental Services Line Chair at VHB. "The City of Norfolk continues to go above and beyond to make certain their citizens are engaged. Hearing their direct feedback motivated our design teams to not only improve flooding, but to improve the overall quality of life for the community through economic vitality, public health, safety, and accessibility."
Infrastructure construction, including road improvements and utilities work, is still underway, with anticipated completion scheduled for 2022. The City of Norfolk has a dedicated website detailing the project efforts and includes newsletter updates that are sent on a quarterly basis. The City also has a dedicated Neighborhood Development Specialist to make certain that residents are well-informed, connected and engaged throughout the remainder of construction.
For more information about VHB's environmental service offerings and how we can assist you on your next project, visit our Environmental Services page or contact Neville Reynolds directly at rreynolds@vhb.com.