After two decades in the making, the Pawtucket-Central Falls Transit Center opened on January 23. It will provide a combination of commuter rail and bus service and spur economic growth by activating two million square feet of new development opportunities. Rhode Island Governor Dan McKee joined members of the state's Congressional delegation, local leaders, and other elected officials for a ceremonial ride to the station from Providence.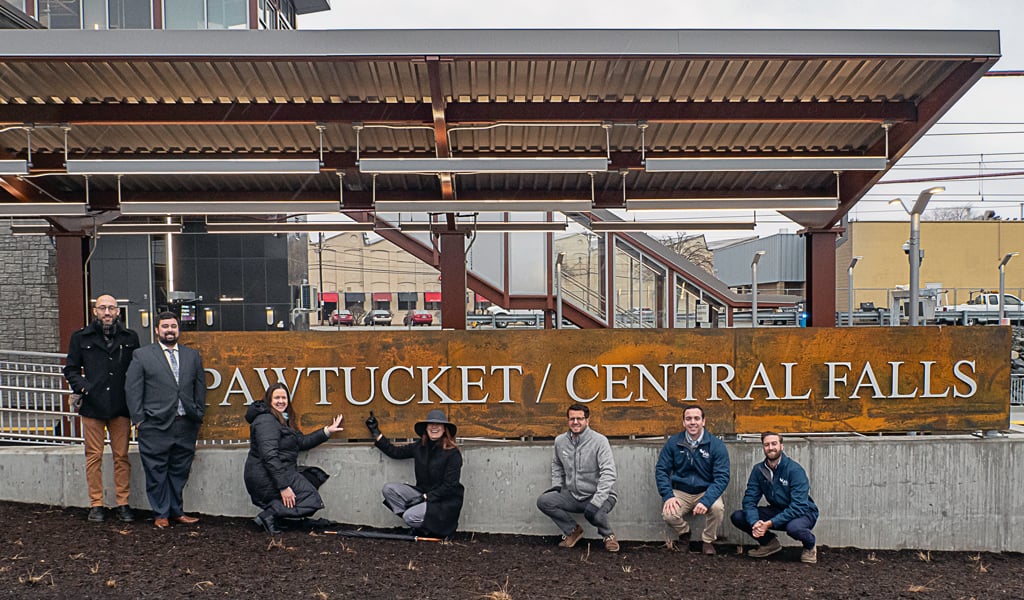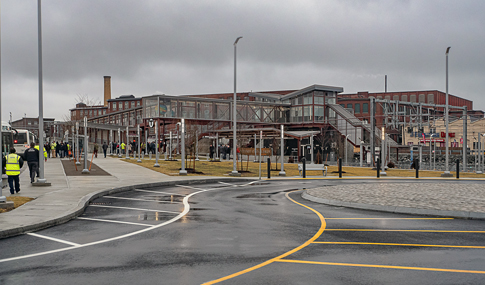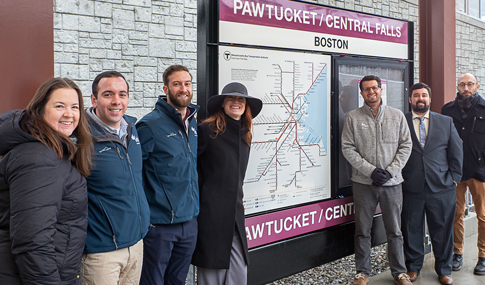 Providing connections to Boston to the north and Providence, T.F. Green, and Wickford Stations to the south, the new Transit Center will improve local and regional mobility and is anticipated to create new economic opportunities across the Blackstone Valley. It will also allow riders multimodal connections from commuter rail operated by the Massachusetts Bay Transportation Authority (MBTA) and Rhode Island Public Transit Authority's (RIPTA's) statewide bus network, making it easier and more convenient for many Rhode Islanders traveling to and from Boston, as well as other destinations across Rhode Island and Massachusetts.
VHB initially partnered with the City of Pawtucket on evaluating the feasibility of bringing passenger service back to the Cities of Pawtucket and Central Falls. Later, VHB partnered with the Rhode Island Department of Transportation (RIDOT) to help bring this project to reality, preparing Preliminary Engineering and NEPA Documentation for a new commuter rail station, as well as documents that prepared the project for Design-Build. Efforts have focused on transportation planning and alternatives analysis for railroad operations and opportunities for transit-oriented development (TOD); design for the station, access roadways, bridges, and track layout; financial analysis outlining Cost-Benefit Analyses and potential funding sources; NEPA documentation; a TOD Master Plan; and a successful application for a USDOT TIGER grant. Following the TIGER grant award, VHB developed a Design-Build bidding package for procurement, which allowed RIDOT to innovatively deliver the new Transit Center. The Design-Build contract facilitated collaboration with the city's parallel TOD initiatives, as well with RIPTA to construct an intermodal bus facility immediately adjacent to the commuter rail stop.
Originally built in 1915-16, the historic station offered two island platforms and four tracks. In 1959, the building was closed and service to Rhode Island stopped all together in 1981. The Pawtucket-Central Falls Transit Center will provide significantly improved transit connection for residents living along a corridor where 72 trains pass each day but to which these residents had no access until now.
"Pawtucket and Central Falls are both low-income and minority communities that have been chronically underserved for decades," said Natasha Velickovic, VHB's Transit & Rail Managing Director in New England. "It took more than 20 years, collaboration with multiple stakeholders, and required major stamina but I am enormously proud of our VHB team for the investment we helped bring to these communities. It's a great example of what an integrated, holistic approach can do to improve the built environment beyond just the design of the infrastructure."
The train station, located on Pine Street, adds a stop to the MBTA Providence/Stoughton line, connecting the Blackstone Valley with Boston. It will also feature 200 parking spots and a RIPTA bus hub. An additional 200 parking spots and restrooms will be under construction in 2023.
Discover more about VHB's innovative solutions for transportation agencies.