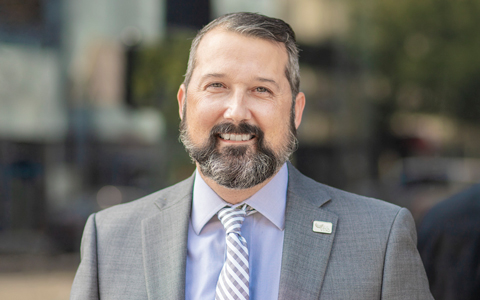 It is with a heavy heart that VHB shares the news that our dear friend and colleague Ben Siwinski passed away on June 8 after a courageous two-year battle with cancer. Ben died peacefully at home, surrounded by his loving family.
Ben graduated from the Florida Institute of Technology, in Melbourne, Florida, with a BS in Airway Science Management. He joined VHB in 2007 as a Senior Airport Planner and Project Manager as we sought to offer our clients a wider range of airport services and build our NEPA and environmental permitting services. Ben also brought more than 10 years of experience in aircraft noise analysis and was responsible for the first Noise Screening Assessment in the nation—competencies that added a new dimension to VHB's aviation services.
Working out of our young and growing Sarasota office, Ben quickly established himself as a trusted colleague and partner, helping to grow VHB's prominence in the Southeast and expand our client base. He led some of the most complex airport environmental permitting and ground-breaking sustainability planning studies in the country and worked on high-visibility projects, such as a second airport for Las Vegas and new runways at Philadelphia Airport. From Madison, Wisconsin, to Salt Lake City, Utah, and from Dayton, Ohio, to Nashville, Tennessee, Ben has left his mark.
"Ben has not only been an amazing friend and mentor to many of us in our aviation practice but was also instrumental in putting VHB on the map in airport environmental and sustainability services," said Fin Bonset, Director of Aviation Services.
Ben also volunteered his time and expertise within the industry, serving as Chair of the Airport Consultants Council Planning and Environmental Committee. He was a Certified Member of the American Association of Airport Executives and an active member of the Florida Airports Council's (FAC) Environmental Committee. In 2011, the FAC selected Ben to receive its Corporate Eagle Award, which recognizes a corporate member who has gone above and beyond in support of FAC members, events, and educational initiatives.
Ben's journey at VHB led him to be named Managing Director of our Gulf Coast operation in 2017, after serving as the Interim MD in Atlanta. Under Ben's leadership, VHB's Tampa and Sarasota offices made the Tampa Bay Business Journal's Best Places to Work list for the first time and rose to prominence by helping to win and complete some of the most meaningful projects in the area, including the City of St. Petersburg's Sustainability Action Plan, as well as Pinellas County's Sustainability and Resiliency Action Plan. Both projects addressed VHB's mission to help provide long-term solutions to economic, environmental, and social challenges for communities. These planning efforts will shape development in the Tampa Bay area for decades to come, which is a great legacy for Ben.
We couldn't be more proud of Ben and grateful for his contributions and all that he achieved during his tenure at VHB. He built strong relationships across the organization, as well as with clients, earning the admiration and trust of everyone who worked with him. Ben was a friend and mentor to so many at VHB. He always put his team first—his priority was on everyone around him, and he wanted to do whatever he could to develop, support, and connect his team. He was also instrumental in fostering VHB's culture in the Gulf Coast.
"Ben always walked the walk," said Shannon Ruby Julien, Florida Energy Market Leader. "He put others, and VHB, before himself, which is what inspired leaders do."
Ben was dedicated and creative, and VHB clients loved his optimistic manner. He was always interested in the individuals with whom he worked and treated everyone as a friend. "I learned from Ben how to bring my whole self to the table," said Carol Lurie, Regional Aviation Director. "He will be greatly missed."
Known for his disciplined approach to his work, Ben rose early to plan the day's activities and make a 6:00 a.m. gym class before getting into the office. That dedication to excellence was reflected in Ben's leadership style and his commitment to being a role model for those around him. In an interview, Ben said, "Our CEO Mike Carragher gave me a word of advice three years ago when I stepped into more of a leadership role. He told me everyone sees your attitude and how you carry yourself. So be aware of that, be mindful of how you carry yourself, because it reflects on other people." Clearly Ben took this advice to heart.
Reaching out to Ben shortly before his passing, Mike wrote, "Ben, thank you for being the incredible person, friend, and leader that you are. You have given so many of us a life lesson in resiliency, hope, fortitude, courage, and grace."
Bill Ashworth, COO, echoed this sentiment, saying, "Ben was an inspiration to so many of us in so many different ways. The outpouring of love and support he received from his VHB family demonstrated just how impactful he has been as a colleague, leader, friend, and all-around great human being."
Ben built strong and lasting relationships wherever he went. Decades after college, he remained close with his Chi Phi fraternity brothers and still got together with them. He loved sports and championed every team from Tampa as well as Boston. He appreciated a good beer from a local brewery, enjoyed music and going to concerts with friends, and traveled when he had the chance—a highlight being an amazing family trip to Italy several years ago.
Ben also loved his home city of St. Petersburg and was an avid runner—once running a 10k and 5k back to back at the St. Pete Run Fest. Above all, Ben was devoted to his family. He adored Stephanie, his college sweetheart and wife of 22 years, and their two daughters, Maddison (Maddie) and Avery. Maddie will be graduating from Florida State University in the spring of 2024, and Avery graduated a year early from high school and will be attending the University of South Florida in the fall. Ben never missed an opportunity to share his pride in their achievements.
"Ben was one of the best," said Alex DeYoung, Project Manager. "We were all so lucky to work with him, but even luckier to get to know him."
Read Ben's obituary.