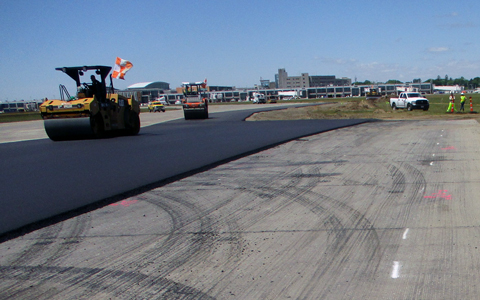 Runway 16-34 at Rhode Island T.F. Green International Airport (PVD), which serves as a secondary 'crosswind' runway, reopened to air traffic in December 2021. VHB provided engineering and permitting services to the Rhode Island Airport Corporation (RIAC) that facilitated the $24.8 million reconstruction.
This expedited timing supports an ongoing reemergence of air travel. According to RIAC, as of the beginning of 2022, seat capacity for flights departing PVD had reached 85 percent of the same period in 2019, and projected enplanements could reach 94 percent of pre-pandemic capacity levels by April of this year. Runway 16-34 can assist in absorbing that capacity, and, according to RIAC, will typically handle 20 percent of all flights.
The Runway 16-34 reconstruction complies with Federal Aviation Administration (FAA) safety standards. Rehabilitation of the runway pavement, which was in poor condition, has increased safety by minimizing occurrences of foreign object debris on the airfield and enhancing stopping power with a higher friction quotient. The reconstruction also widened the runway's shoulders, from 15 feet to the current 25 feet, to meet FAA standards for safety and better access for emergency equipment during incident and accidents.
Additionally, VHB acquired state permits and designed proper drainage systems for the runway, which also enhances operational safety by not attracting birds to the area that could interfere with flights.
The VHB team, led by New England Environmental Service Leader, Susan Nichols, held pre-filing meetings with the Rhode Island Department of Environmental Management (RIDEM) to discuss the design criteria and potential design solutions. Through this close coordination with RIDEM's regulators, VHB acquired a permit application in record time, which jumpstarted the overall project team, led by Stantec, in the push to meet a schedule with little room for slippage. In just six months, the team completed four design submittals and obtained environmental permits before the project was advertised for construction bids.
VHB leveraged recent involvement in master planning at PVD and ongoing close contact with RIDEM to drive the schedule. Managed by the Cardi Corporation as well as other local subcontractors, construction commenced in September 2020 and the runway was re-opened in December 2021, both ahead of schedule and under budget.
The roots of this project date to 2004, when VHB first prepared an Environmental Impact Statement (EIS) for a slate of safety and efficiency projects at PVD to be funded by the FAA. Prior work included installation of Engineered Material Arresting Systems (EMAS)—crushable concrete blocks that function like brakes to slow a plane down in case of an errant landing or emergency at Runway 16-34. For this previously completed effort, VHB designed wetland mitigation areas and a nearby stream restoration.
Throughout this multi-year span, VHB's Providence office and Susan Nichols maintained oversight of the team effort. Susan says of the team's efforts, "We're proud to help RIAC meet their infrastructure challenges and drive safe operations at PVD. Our team is already applying the practical experience from Runway 16-34 for a similar airfield runway reconstruction design project that is in an early design phase."
For information on VHB services in aviation, please contact Susan Nichols or Fin Bonset.